Apple iPad helps Portland Trail Blazers roll off 11 straight wins
40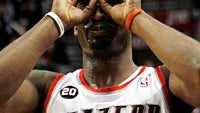 With a 13-2 record, the Portland Trail Blazers are the surprise team in the NBA. Coming off a 33-49 season in 2012-2013, what could possibly have helped Portland become a possible NBA finalist for the first time since the Bill Walton days? How about the Apple iPad. Portland is using the tablet during games as players sit on the bench and review video allowing the players to make adjustments in real time. This has allowed them to rip off 11 straight wins including yesterday's 102-91 victory over the hapless New York Knicks.
The tablet is set up so that individual players can call up video on demand. For example,
LaMarcus Aldridge
looks at where the double teams come from when he has the ball.
Wesley Matthews
uses the slate to improve his defense, checking his stance and his spacing in comparison to the opponent. He also can see how an opponent is scoring off of him so that he can make stops on defense. The software on the iPad does its job so quickly that by the time the evening's starters are taking their first breather on the bench, they can go over video of their performance from that night's game from the opening tip through the last time out.
"It does [help] because you get to see it [again], and in the game everything happens so fast. You ask yourself, 'Did I rush it? I felt like I rushed it.' [The video can tell me] when I'm in that same situation -- off a flare screen, when Nic [Batum] passes over the top -- [if] I have more time to get the shot o. ff or [if] I have to shoot it at that speed again. Or, could I have driven it? You're not replaying [a possible mistake] in your head, psyching yourself out, You can actually see it."
-Wesley Matthews, Portland Trail Blazers
In sports, when a team does something different and it starts paying off with victories and championships, you can be sure that other teams will follow. We wouldn't be surprised to see other NBA teams employ iPads and other tablets in the hopes of copying the Blazers' success. And there is no reason why other teams playing other sports can't use the slate to help them make mid-game adjustments.
Earlier this year, the NFL said that it had a more serious use for Apple's slate. An app put together by Doctors
helps diagnose a concussion immediately after a huge hit
. As life saving as that may be, team sports is abut one thing, the thrill of victory. That makes Portland's NBA team real trailblazers as they use the Apple iPad to reel off win after win in an attempt to get a seat in this year's finals, And if Portland does end up taking on LeBron James and the Miami Heat for the NBA title next June, it might be a match up of Portland and its iOS tablet against
LeBron and his Android powered Samsung Galaxy Note 3 phablet
.
source:
Blazers'Edge
via
AppleInsider