Apple iPad 4 is now officially the tablet with most internal storage as 128 GB version goes on sale
32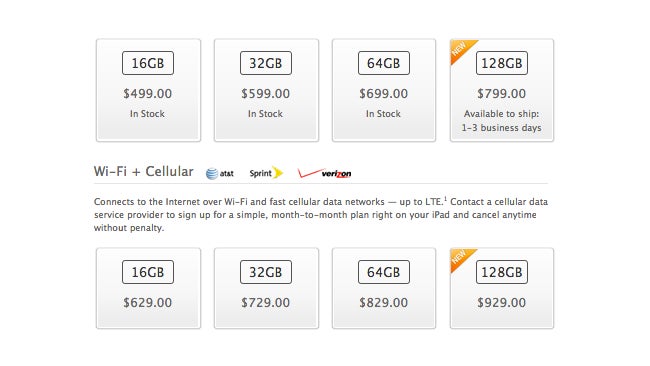 The tablet with the largest amount of internal memory is now officially the
iPad 4
, as the
previously announced 128 GB version
went on sale today.
Pricing is on par with the storage, and the Wi-Fi variant will net you $799, which is nearing Ultrabook territory, and still less than the $900
Surface Pro
with the same storage, of which you have
much less as user-available
.
Shipping is listed as 1-3 days, so availability should not be a problem, and you will have quite a bit of movies with you to watch on your next overseas flight. Alternatively, you can grab a Wi-Fi portable hard drive like Seagate's 1TB unit for $199 and have even more storage, but you have to lug it with you as well.
Recommended Stories