Apple hires the CEO of fashion powerhouse Yves Saint Laurent, will report directly to Tim Cook
5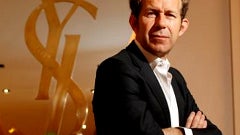 Apple has hired a former fashion powerhouse Yves Saint Laurent CEO, Paul Deneve, as a vice president for special projects reporting directly to Tim Cook. Needless to say, Mr Deneve has experience placing products as premium with the necessary price markup, and that's maybe why he landed at Cupertino.
Apple had some issues with the management of the retail business after its
chief left for JC Penney
, and it hired a UK retail specialist, who was promptly fired, and the retail branch is now under direct Tim Cook management. He might be willing to offload this to someone like Paul Deneve, but the rumor is he wasn't hired for retail.
Speculation mounts for the launch of an
iWatch
wearable device, which would be right in the ballpark of Mr Deneve as former YSL CEO, since the watch will be as much of a fashion statement as it will be a nifty gadget to communicate with the iDevice in your pocket or purse, so we are all ears what will come out of this.