Apple's ex-retail boss Ron Johnson out from JC Penney, back to the mothership?
3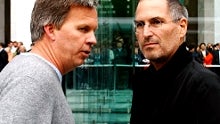 After a brief, and largely unsuccessful effort to
pull JC Penney out of the dumps
, Apple's ex-boss of retail Ron Johnson has been shown the door, it seems. The discount clothing retailer saw its revenue slump 27% under Ron, despite the stellar performance he achieved with the Apple Store chain, for which they hired him.
It turns out that even one of the best retail specialists can't help when you have more than a thousand stores across the US in increasingly unattractive locations, and the product you are selling is not exactly flying off the shelves like Apple gear does. Mr Johnson wanted a "challenge" when he moved, and tried to make JC Penney more upscale, rebranding the locations into "Shops" with a more boutique feel, but it turned out to be a slow and painful process.
Word on the street is that Ron Johnson might make a swing at Apple again, as now the retail shops of the electronics giant are directly run by Tim Cook himself, who probably has much more on his head with the falling stock price and the plotting of Apple's future products against the Android crusade anyway. Not that the stores aren't being run well now, as Apple took in almost $5 billion in profit from there last year.