Apple grabbed the largest share of plan based smartphone sales at Best Buy last quarter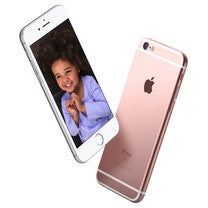 Earlier today, we showed you some data from JeeQ that
revealed which smartwatches/fitness trackers led the sales parade at Amazon and Best Buy
. Now, we have a similar breakdown related to plan based smartphone sales at Best Buy. The data covers such purchases made during the fourth quarter, which covers the holiday shopping season.
The 64GB
Apple iPhone 6s
for Verizon grabbed the top spot. That was followed by the 16GB
iPhone 6s
in Space Gray for Verizon and the same exact model for Sprint. Verizon's 64GB iPhone 6s in Rose Gold took fourth place while the Verizon Black Sapphire 32GB
Samsung Galaxy S6
completed the top five.
Despite the addition of the popular Rose Gold color to the iPhone 6s line up
, Space Gray remained the most purchased smartphone color during the period, accounting for 30% of all plan based smartphones sold by the big box retailer. Rose Gold was second as 20% of the phones sold in the quarter were that color. Black Sapphire, with 18%, was third.
Verizon had a strong holiday season at Best Buy as the data revealed that Big Red swamped AT&T and Sprint in plan based smartphone sales during November and December. And perhaps the most interesting data uncovered by JeeQ shows that in October, phones carrying 64GB of native storage were the most popular. In November, 32GB models were the top sellers, followed by the preference for 16GB models in December. Possibly there were promotions going on that manipulated the data. One such promotion run by Verizon during the quarter allowed consumers to
buy the 128GB Apple iPhone 6s or Apple iPhone 6s Plus for the price of the 64GB model
. A similar sale allowed a Verizon customer to buy the 64GB Galaxy S6 for the price of the 32GB model.
source: JeeQ Data