Apple gains market share, passes LG and takes second behind Samsung
54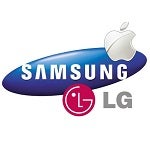 Trends in the US mobile phone market from July 12 to October 12, 2012 still show Android holds the most market share according to surveying done by comScore. All the various Android users account for about 54% of the market based on a study of more than 30,000 mobile subscribers. iOS came in second at 34%.
The most significant movement was seen with Apple's rank in manufacturer standings. Samsung remained the top manufacturer, with a commanding a little more than 26% of market share, up 0.7%. Apple came in second for the first time at 17.8%, just a couple tenths ahead of LG at 17.6%. Apple made a strong gain for a period where for only a fraction of the time the new iPhone was available. LG lost 0.8% share. Motorola held steady at about 11% and HTC slid 0.4% to 6%.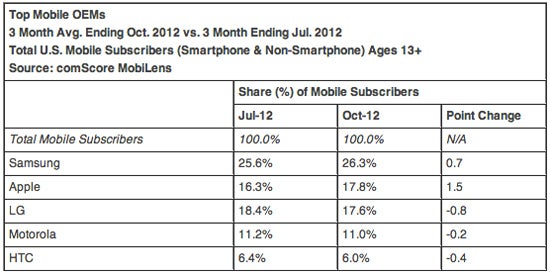 While Android and iOS dominate nearly 90% of the market in terms of mobile OS, RIM still holds on to third with 7.8% even after a further 1.7% decline in market share. Microsoft saw a decline of 0.4% to
3.2
% overall. Symbian is still registering a pulse at only 0.6%, a 0.2% drop from the previous survey.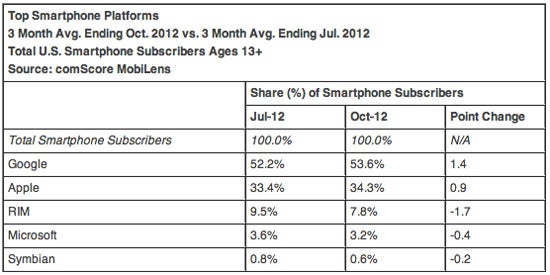 The next quarter's survey will be the one to watch for a lot of reasons. First, the iPhone 5 will have been available for the full period, so we will be able to see if the gains were the initial swell from the new device or if they were gains through attrition of LG's losses; second, Windows Phone will have been available for most of the new survey period; and third, Samsung's position, while certainly remaining on the top, will be interesting to see how its growth is affected with all the new devices it has just released, and we can see how effective it is at fending off Apple's advance. We do not expect RIM's position to improve nor do we expect Nokia to make a showing, but anything is possible. For the loyal followers of Symbian, that OS just seems to hang on.
So while this quarter's report is interesting in terms of Apple's movement, next quarter's is going to be really interesting to see how the market plays out. If we do not see major movement by Microsoft and Windows Phone, even if it does not take third place from RIM, that leaves RIM with a gaping hole of an opportunity to hit it big in
January with the release of BlackBerry 10
. Next quarter will probably be too soon to see if
HTC's change in marketing strategy
has been effective. In the meantime, Android remains on top of the world.
via:
The Next Web