Apple files patent application for removable back covers with different camera lens options
37
Apple has come up with a way for users of the Apple iPhone to be able to
switch camera lens and add certain functionality to the rear shooter
. The Cupertino based company has filed a patent application titled, "Back Panel for a Portable Electronic Device with Different Camera Lens
Options". Such options could include a back cover with a camera lens sporting an IR-filter that allows the user to take black and white pictures in low light. Another back cover could include a close-up lens that would allow the Apple iPhone to be used in extreme close-up photography.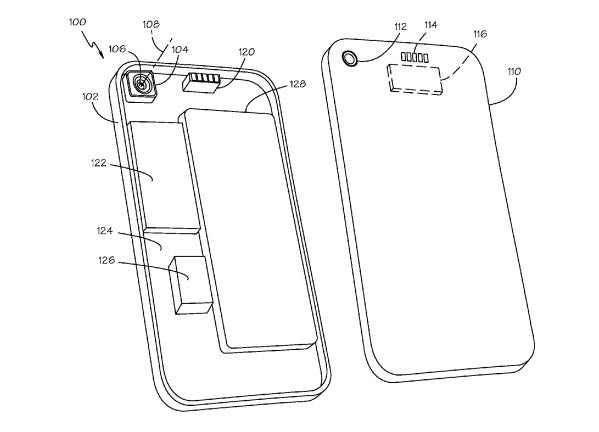 Diagram from Apple's patent application
The removable back cover could also have a way to
enhance the phone's battery with a small power source built into it
. Even some control chips could be added. This could take the premise of swapping out the back cover to a new level including one cover that would offer a camera lens having an optical zoom feature controlled by gestures made on the touch screen. Or, how about a cover that replaces the shutter on the camera with a mechanical one? This would give Apple iPhone users better control of the exposure speed when photographing quickly moving objects. Another strong idea is one that would allow a removable back cover of the Apple iPhone to feature a stroboscopic flash, using a secondary battery built into the cover as a power supply. The optical element on the back cover could even be an optical image stabilizer that uses the phone's accelerometer to know what directions the camera is moving while filming a video or a snapshot, and cancel out movement effects on your pictures and videos.
A whole line of removable covers sounds like a
possible money making opportunity for Cupertino
if they can get around the issues of design, engineering and manufacturing such an accessory. It offers more choices than simply upgrading the camera would, and would allow for a bit of customization on a phone not really known for it.
source:
UnwiredView