Apple experimenting with new ways to keep employees happy
21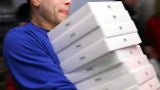 According to a number of sources that seem to be well-informed when it comes to the stuff that's going on inside Apple, under the new CEO, Tim Cook, the company has been trying to find new ways of keeping its employees happy and satisfied.
One of the latest initiatives that the management has tried is called "Blue Sky". Known only to select employees, Blue Sky allows them to spend some of their time working on a pet engineering project - something different from their daily routine and main project. The time that employees are allowed to spend on such side projects is said to be about a few weeks. The Wall Street Journal reminds us that such initiatives are nothing new and are much more popular with other Silicon Valley companies like Google, for example, which has the so-called "20% time", allowing some of the staff to spend up to 20% of their time working on pet projects. Such moves basically aim not only to let employees take a break from their usual work, but also generate some fresh ideas that could be later implemented in the company's main products.
Since Tim Cook has become the chief executive officer of Apple, he has also introduced improved employee discounts on Apple products, as well as the
Apple Matching Gifts Program
, which has the company match every dollar that a U.S. Apple employee donates to a non-profit organization. Such initiatives were not really the style of Apple's former CEO and co-founder, Steve Jobs, who liked to manage the company more like a military institution than a technology enterprise. Then again, we shouldn't forget that it was Jobs who brought the dough back in the pockets of the people working at Apple, and it's still a bit too early to see how Tim Cook is going to fare in the long run.
source:
WSJ