Apple ships 20% fewer iPhones in China during the fourth quarter
10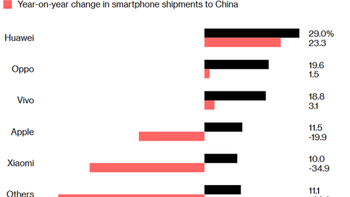 There are a myriad of reasons why, according to IDC (via
Bloomberg
), Apple saw year-over-year sales of the iPhone drop 19.9% in China during the calendar fourth quarter. During the three month period, the American company had the fourth largest smartphone market share in China with 11.5%. First of all, there is the U.S.-China trade war that has negatively impacted the Chinese economy, and has driven the Yuan lower against the U.S. Dollar. Because of the strength in the dollar, the
Apple iPhone XR
was more expensive to Chinese consumers than the
Huawei Mate 20 Pro
(Apple later cut wholesale prices to adjust).
Then, there is the arrest of Huawei CFO Meng Wanzhou in Canada. The arrest was based on a U.S. warrant that alleges the executive (and daughter of the company's founder) engaged in global bank fraud in order to cover up illegal sales to Iran. This touched off a wave of nationalism in China that has
local companies punishing employees who buy iPhones
, while subsidizing the purchase of employees' phones made by Huawei and other domestic brands. And we shouldn't forget the preliminary injunction that Qualcomm won against Apple from a Chinese court that found Apple liable of infringing on a Qualcomm patent. That sales and importation ban covers the
iPhone 6s
through the
iPhone X
.
Of course, the entire smartphone market is stagnant at best, and with many of the latest innovations coming from Chinese manufacturers, Apple had the fourth highest smartphone market share in the country. On top is Huawei with a leading 29% slice of China's smartphone pie from October through December, 2018. The company shipped 23.3% more handsets than it did during the same quarter in 2017.
"Apple doesn't have a good go-to market strategy that fits the rapidly changing Chinese market. It also seemed to be slow in reacting to China's economic slowdown and changes in consumption structure."-Nicole Peng, senior director, Canalys
Oppo and Vivo were second and third, with market shares of 19.6% and 18.8% respectively. Both showed slight gains in shipments year-over-year. Xiaomi, while shining brightly in India, was fifth in its home country with a 10% market share. Its shipments declined 34% in the country year-over-year.