Apple makes a change to App Store search results to keep the feds away
8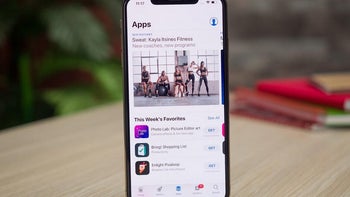 With Attorneys general from 48 states, the District of Columbia and Puerto Rico filing an antitrust suit today against Google, Apple might be getting a little nervous. The company is under fire for not allowing iPhone owners to sideload apps from outside of the App Store.
This is one of the major complaints made by music streamer Spotify
to the EU Competition Committee, which is currently investigating the claim. Android users can, if they wish, sideload apps from outside the Google Play Store.
In May, the U.S. Supreme Court ruled that a class-action suit against Apple could proceed. By a 5-4 decision, the Court said that
iPhone and iPad users purchase apps in the App Store directly from Apple
and that the company is not acting as an intermediary as it claims. The plaintiffs argue that the 30% cut that Apple takes on revenue generated by app sales, subscriptions, and in-app purchases leads them to pay higher prices since they are forced to make these transactions inside the App Store.
Apple's own apps once monopolized App Store search results

All of this extra scrutiny has led Apple to make a major change to App Store search results,
as reported today by The New York Times
. Citing data from app analytics firm Sensor Tower, the
Times
says that Apple's own apps recently ranked first for 700 search terms and some searches showed 14 Apple apps before an app from a rival developer appeared. Two Apple executives, when presented with the data, admitted that the App Store search results were loaded with Apple's own apps. And this was the case even when the company's own apps were less popular than the titles from other developers. But the two executives now say that Apple has adjusted the algorithms so that its own apps don't appear so often at the top of App Store search results. These algorithms, which no company will ever explain in detail, play the biggest part in determining search results and thus, which apps get installed by consumers.
The two Apple executives that spoke with the newspaper were Senior Vice Presidents Phil Schiller and Eddy Cue; the former is in charge of the App Store while the latter oversees many of Apple's own apps. The two defended the company by denying that Apple had ever changed the search results to benefit its own apps over those offered by competitors. Instead, they said that the company's apps generally get higher placement in search results because of their popularity and because the rather generic-sounding names of these apps more closely resemble the search terms being used by consumers.
Armed with years of data, the Times pointed out that back in September 2013, searching for "music" in the App Store would usually result in music streamer Spotify showing up first with another streaming app, Pandora, number seven. After Apple launched Apple Music in 2016, searching for "music" in the App Store came back with the company's own streaming app on top, Spotify knocked down to fourth, and Pandora down to eighth. By February 2018, the search for "music" in the App Store resulted in a list that had six Apple titles on top (Apple Music, Garage Bands, Music Memos, iTunes Remote, Logic Remote, and iTunes Store) with Spotify eighth. And by the end of last year, eight Apple apps appeared at the top of the results list when "music" was the subject being searched for. Two of those apps (iMovie and Clips) had nothing to do with music and Spotify was down to number 23.
But this isn't the end of the story. Shortly after Spotify complained to the EU in March, Apple had adjusted the algorithms and a search for "music" in the App Store had iTunes on top with Apple Music second. No other Apple apps were in the top 10 and Spotify was back to fourth with YouTube Music fifth, SoundCloud seventh and Pandora eighth. Meanwhile, Apple won't admit that there ever was a problem that needed correcting. "It's not corrected," said Schiller. "It's improved," said Cue.