Apple celebrates 1,000,000,000 apps downloaded this month?
32

Apple is closing in on the 1,000,000,000th app downloaded world wide and they are running a contest to commemorate the event with the grand prize being a $10,000 iTunes gift card. Other prizes include an iPod touch and a MacBook Pro among other fine items. The App Store has been open for about 9 months which works out to roughly 110 million downloads monthly, all the way down to about 44 per second. Apple has posted a running scoreboard that gives a live estimate on the number of downloaded apps while you watch. If you are in to self-hypnosis or just have nothing better to do, you can see the numbers change right before your eyes by hitting this
link
where you can also get contest rules and a list of the top 20 downloaded apps of all time. A rough calculation gives us April 30th as a guess as to when number 1,000,000,000 will be reached, so check back here when the target is hit and we will see how close we came.
source:
Apple
via
EngadgetMobile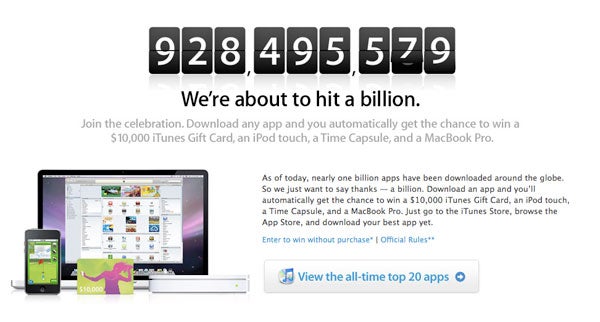 Recommended Stories