Apple and Samsung to push smartwatch shipments from just 1M today to 36M in 5 years
13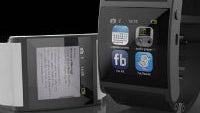 Smartwatches are a technology on the verge. There have been smartwatches from various manufacutrers around for a while, but none have really caught on because the technology hadn't quite caught up to the dream potential of what a smartwatch could be. With the explosion of the mobile ecosystem, that has changed, and a new report says that just as with smartphones, Apple and Samsung will be leading the way on smartwatches.
The trouble is that there is huge growth expected, but it may not amount to much when it comes to actual users. A new report from Juniper Research says that smartwatch shipments are going to grow from just 1 million this year to 36 million smartwatches shipped by 2018. That's a 3600% growth in just five years, but of course, you'll notice that the end number is still just 36 million, which could be covered with one in ten Americans buying a smartwatch in 2018. Interestingly, Juniper is also projecting that by 2018, there will be 170 smartphone accessories devices as the market for health monitors, like the FitBit, continues to expand.
The idea is that Apple and Samsung entering the market will provide legitimacy to the devices and kickstart sales of other smartwatches like the Pebble, or the rumored new smartwatches by
Sony
,
Microsoft
,
Google
, Motorola, and
LG
, just to name a few.
If the rumors are true, Samsung will be the first out with the announcement of its Samsung Galaxy Gear smartwatch expected on September 4th alongside its announcement for the Galaxy Note III. Sony is expected to follow soon after with its SmartWatch 2 rumored for a September 9th release. After that, the info is murkier. There are rumors that Apple will launch its smartwatch before the holidays, and maybe LG as well. The other companies are nowhere near release for their devices.