Apple and Samsung return to court for hearing in front of Judge Koh
20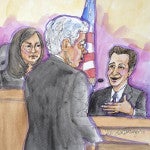 Samsung and Apple return to the courtroom of Judge Lucy Koh on Thursday as both sides will argue certain post-trial motions that can
change the results
of the trial. Judge Koh has already spent weeks going over the motions and could decide to make a ruling on some or all of them on Thursday. One of the most important is Samsung's request for a new trial based on juror misconduct. Jury foreman Velvin Hogan failed to tell the court that he took Samsung partner Seagate Technology to court,
hiding a possible vendetta against Samsung and foreign companies
.
Furthermore, Hogan fancied himself a big-time inventor because of a patent he had received. He used that experience to take over as jury foreman and allegedly used
incorrect legal principles
to guide the jury to its verdict against Samsung. The verdict awarded Apple $1.05 billion, a figure both sides are trying to change. Samsung says that hundreds of millions of dollars should be taken off the verdict award as they were incorrectly computed, while Apple claims that because Samsung was found to have willfully infringed on Apple's patents, the latter is allowed to request that certain damages be tripled. Not all of the $1.05 billion is covered by this, so Apple seeks
$535 million more
.
26 products
that Apple wants removed from the market. Most of these are older models many of which have been modified with workarounds so as not to infringe on Apple's patents.
Apple and Samsung have been battling each other globally. In the states, it has been Apple that picked up the victory in the first San Jose legal fight, and a victory with a preliminary ruling in front of the ITC. In the U.K., Samsung fared better as a judge ruled that the Korean based companmy did not copy the Apple iPad, Other cases are being heard in Germany, South Korea and Australia.
Both sides have a lot riding on Thursday's hearing and hopefully there won't be a long wait for the decision.
source:
WSJ