Apple and Samsung dominated 71% of the US smartphone market in 2015
24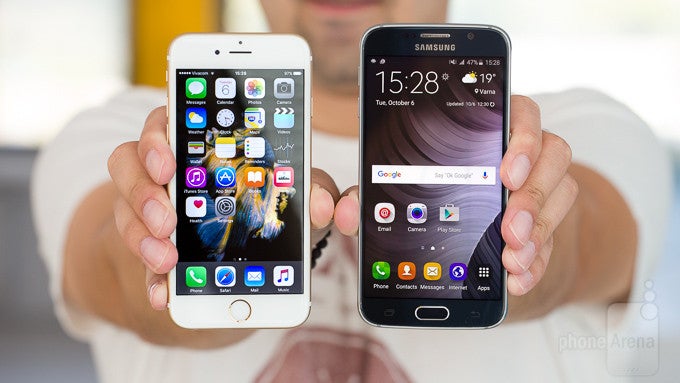 When we speak of the top of the global smartphone industry's Olympus, it's always been Apple and Samsung playing God while the rest are watching from below. Many dream of disrupting their stronghold and boast how their products offer much better value for your hard-earned cash. But the stretch between the top dogs and the rest of the pack battling for what's left of the bone is cosmic, and that's not about to change anytime soon. Thankfully,
it's yet to stop anyone with a competitive product in them
from trying.
It shall be interesting to see whether the upcoming
LG G5
,
a rather interesting smartphone by the looks of it
, will eat into Apple and Samsung's market shares, despite the two's traditionally strong competition. Apple is going to introduce significant changes
with the iPhone 7 & 7 Plus in the second half of 2016
, and is also rumored to unveil an aggressively priced iPhone with up-to-date hardware and features in March. The three offerings are sure to attract potential upgraders and Android switchers, perhaps more so than the Samsung
Galaxy S7
, which is
shaping up as an incremental upgrade
over its technologically impressive predecessor.
the smartphone market is a difficult place to do business in.
Still, the smartphone market is a difficult place to do business in, even if you are Apple, Samsung, or LG. The reason for this is saturation. The research says that 80% of US "broadband households" now own a smartphone, and while we're at it, Western European countries exhibit similar saturation percentages (with Spain holding a striking 90%). Still, there is hope for the mature, highly saturated US markets, as one-third of iPhone owners and some 30% of Samsung's crowd are rocking two-year old handsets and probably consider upgrading.
To conclude the overview, here is some random interesting trivia from Parks Associates for mobile enthusiasts. You sure love watching videos, don't you?
More than 70% of smartphone users in America now watch short streaming video clips, and more than 40% watch long streaming videos
Almost 40% of smartphone users use the voice recognition function; among iPhone users, more than half have used Siri.
36% of users use Wi-Fi calling
35% stream music from the phone to speakers
26% use a payment app for purchases at a retail location
24% stream video from the phone to a second screen (e.g., TV, PC, etc.)
source:
Park Associates