Two smartphone manufacturers accounted for 73% of premium shipments globally in 2018
14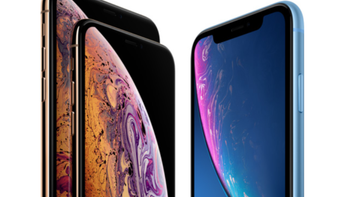 According to Counterpoint Research, a premium smartphone is one that wholesales for more than $400. And last year,
Counterpoint says
that Apple owned the largest market share in this segment of the smartphone industry with a 51% slice of the pie globally. Samsung, which ships a lot of mid-range models in certain regions, was next with 22% of the premium market in 2018. Huawei (10%), Oppo (6%) and OnePlus (2%) round out the top five.
Apple was on top in 2017 too, although it lost 12% of its market share year-over-year. Samsung's premium market dropped 4.3% from 2017 while Huawei's rose 25%. Oppo's position in the premium segment of the smartphone market rose five-fold between 2017 and 2018, while OnePlus saw its share double over the same period.
Huawei's increase was due to the performance of its
P20
and
Mate 20
models, which probably will be repeated this year with the currently released
P30
line and the Mate 30 range expected later this year. Oppo saw strong domestic shipments of the R15 and R17 models. This year, the company's 10x lossless zoom feature should help push its shipments in the premium category, and it is looking to sell 5G models outside of China.
Oppo has said that it plans on offering its phones in the U.S. market
, although no timeframe was placed on this move.
As for OnePlus, its latest model helped put the company in the top five. China, India, and Western Europe made up 80% of
OnePlus 6T
global shipments. Shipments in India during the fourth quarter of 2018 were the highest ever in a single quarter.
"Overall, Chinese players have scaled up their presence in the premium segment and have expanded the category. Further, they are now eyeing new geographies for growth. Apple remained the market leader capturing 51% share of the premium segment, a significant lead over its nearest competitor Samsung which had a 22% share. However, Chinese brands made their mark as Huawei's share in the segment reached double digits (10%) for the first time in a calendar year. OPPO (+863%), OnePlus (+209%), and Xiaomi (+149%) were the fastest growing brands in the premium segment."-Counterpoint Research
In North America, Apple and Samsung remained on top of the premium smartphone market. In third place was Google,
whose Pixel handsets are the fastest growing smartphone brand in the U.S.
according to Strategy Analytics. The rest of the top five in the U.S. included LG and Motorola. In China, Apple was on top followed by Huawei. In India, Samsung had the largest share in premium handsets, followed by OnePlus and then Apple.
Premium smartphone shipments in the U.S. last year rose 10% over 2017, while in China the figure was 37%. Other countries monitored by Counterpoint include Indonesia (+54%), Russia (+28%), Canada (+22%), Mexico (+22%), Thailand (+20%), India (+14%), Brazil (+13%), and Japan (+10%).