Apple ads are losing their appeal and quick in the US, Amazon and LG top the charts
10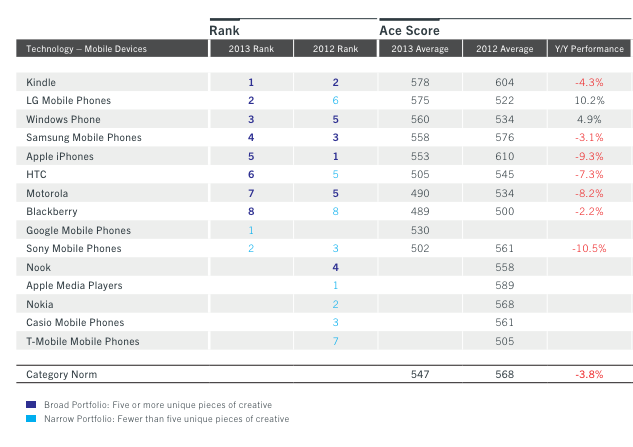 A US study carried out by Ace Metrix reveals that despite its massive $575.2 million television advertising budget (for the US alone), Apple's ads are losing their appeal with viewers, and quickly. The luxe brand has dropped from its number one spot for 2012, and now ranks 5th in Ace Metrix's rankings, which use a composite score derived from polling consumers on things like the "watchability" and persuasiveness of a given ad.
Amazon, a 2012 runner up, has bested Apple for the first spot this time around, specifically when it comes to its Kindle brand. The e-tailer managed that feat with a much smaller budget -- $147.8 million. Ads centered around LG (#2) and Samsung (#4) phones have also one-upped the Cupertino company's marketing efforts, and even Windows phones (#3) as a whole were seen as more compelling.
According to Ace Metrix's report, cited by Business Insider, much of the reason for the success of Amazon's Kindle marketing efforts stems from the fact that their ads focused on the usability and simplicity of their products. In contrast, Apple is often seen trying to appeal to the emotional side of consumers with its ads, and that, apparently, is no longer as effective as it once may have been.