Apple Watch update intentionally changed how the device tracks your heart rate
41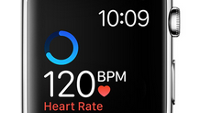 The first update for the Apple Watch
apparently did something that caused the timepiece's heart rate tracker to work inconsistently. But a posting on Apple's support page indicates that this change was an intentional one made by the tech titan. While the watch will continue to show you your heart rate every 10 minutes, it now will not count the beats made when you are moving around and active.
You can get around this by starting an activity in the Workout app because after all, you have to be moving in order to exercise. In this mode, a user's heart rate will be measured every ten seconds. Or, you can use the heart rate Glance to see your beats while you are in motion.
Some Apple Watch owners are complaining that their wearable is losing functionality this way. Those complaining had figured that their heart rate was being tracked without any issues. There is speculation that Apple changed the functionality of the heart rate tracker on the Apple Watch as a way to extend the battery life of the device. Apple Watch owners upset about the change say that they never had a problem with how long the battery lasted in the first place.
source:
Apple
,
9to5Mac
via
Engadget