Apple Watch expected to have a powerful processor and crisp display at the cost of battery
99+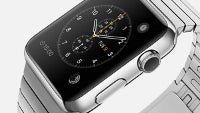 Ever since the
Apple Watch was announced
in September 2014, the subject of its battery has been a topic for plenty of
speculation and discussions
. After all, contemporary smartwatches are quite handicapped in this regard, as the small cases they need to fit barely leave enough room for an adequate juicebox. Still, manufacturers have managed to squeeze out enough out of them in order to achieve at least a day's worth of normal usage. Since Cupertinians left out the bit of info
about battery life
while they were doing the Watch's presentation, many believe that this is a sign that either Apple engineers are still working to better it, or that it will just plain be abysmal.
A report from 9to5Mac cites unnamed sources, saying that Apple wanted to use a relatively powerful CPU in the Watch – dubbed the Apple S1, the CPU is said to be nearly as powerful as the A5 in
iPhone 4s
/
iPod Touch 5th gen
. The screen on the Watch will also be a gem – with "Retina-class" resolution and smooth, 60 FPS animations. As you've probably guessed – this is expected to take a real toll on the battery.
Speculators have long said that Apple is probably delaying the Watch due to battery development issues and this report repeats that notion, claiming that Cupertinians have spent the last year trying to get the timepiece to last for 4 hours of heavy usage and the whooping 19 hours of mixed usage. Their current targets have dropped to 2.5 hours of active / heavy usage, 3.5 hours of "sandard" app use, or around of 3 hours of just having the watchface on. Apple is also trying to get the Watch to work for around 4 hours when in fitness tracking mode.
We are still unsure when we should expect the Watch to hit markets, but the most reliable reports claim it will be this March. Will you be getting one?
source:
9to5Mac