Apple Watch battery life may be "a hardware-side compromise"
50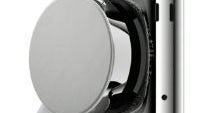 Apple was very careful to not mention the battery life of the Apple Watch during the announcement event last week, but that hasn't stopped the speculation from forming anyway. The general idea circling right now is that the Apple Watch will need
charging every night
, which puts it in the same category as current Android Wear devices.
Even before we find out the truth about the device's battery life, the blame game has begun. A new report from
The New York Times
cites an unnamed former Apple designer who is saying that the problems with battery life stem from "a hardware-side compromise". The former designer still has ties to the company and says that Jony Ive's design team may have beaten out the concerns from the hardware team when it came to deciding on a larger watch body or a smaller battery. This is a change from what has happened in the past with Apple. Previously, the hardware team had tended to win when it came to an issue like this. For example, the design team wanted to offer wireless headphones with an old iPod, but that idea was scrapped because it would reduce battery life.
Of course, the reasoning won't really matter to consumers, just the actual battery usage potential. Apple still has time to optimize the software more, but Apple has also said that the Watch can do much more than what has already been announced, meaning more features that will be taxing that battery.