Apple Watch Series 5 vs Series 4 and Series 3: Which one should you get?
12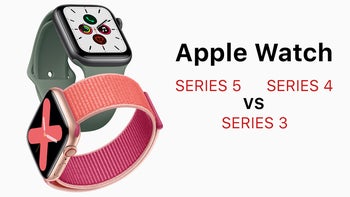 Apple today unveiled the Watch Series 5 – the latest model in the company's wildly successful lineup of wearable devices. The Apple Watch Series 4 was a big step forward from the previous model, in that it refined its sleek design even further, and introduced a landmark feature in the form of personal ECG (electrocardiogram) readings. So, where does Apple's wristwear go from here? The current design has arguably been polished to perfection, so the Series 5 doesn't have many surprises in this regard, but the feature set gives ample room for expansion, and that's where Apple's new smartwatch delivers in spades!
The Series 5 doesn't come cheap, though, so many of our readers are probably wondering,
"should I jump the gun, or go for one of the older models instead?"
And that's a perfectly valid question, especially when considering that the price of the Series 4 and Series 3 is going to drop following the launch of the Series 5. With that said, let's have a look at how the brand new 5th generation Apple Watch compares to the two previous models, which are likely the biggest contenders for your hard-earned cash!
Design and display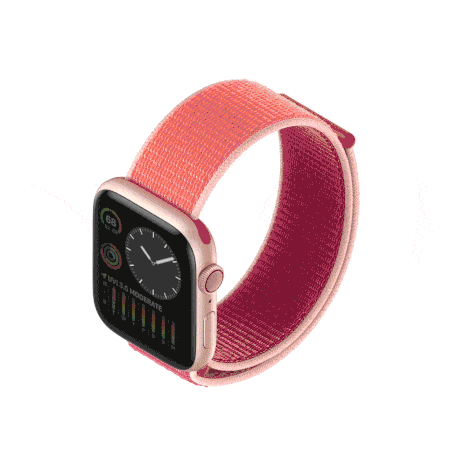 The Apple Watch Series 4 was the first major redesign of the lineup since its inception in 2015. And when we say "major redesign" we mean that it was major in the sense that it was different from previous models. If you haven't worn an Apple Watch before, it's easy to dismiss the Series 4 as being identical to its predecessor, save for the larger screen. However, the 4th gen Apple Watch is noticeably rounder and sleeker than its predecessor.
The new Watch Series 5 looks almost identical to the previous model, but comes in a new titanium version, while the aluminum versions are now made from 100% aluminum, which makes them fully recyclable
.
As far as accessories go, the Series 5 is compatible with all bands that fit previous Apple Watch models.
The Apple Watch Series 5 has an always-on display that literally never turns off, it just dims. Yet, the new Apple Watch still promises the same 18 hours of battery life as previous models. But how? Well, this is possible through multiple technologies that work together in tandem. The Series 5 has an LTPO (Low-Temperature Polycrystalline Oxid) display driver, which can adjust its resolution and refresh rate on the fly to be much more energy-efficient than the previous models. Combine that with a new, more sensitive ambient light sensor and Apple's 'software power management, and there you have it.
Health and fitness tracking features – is there a big difference?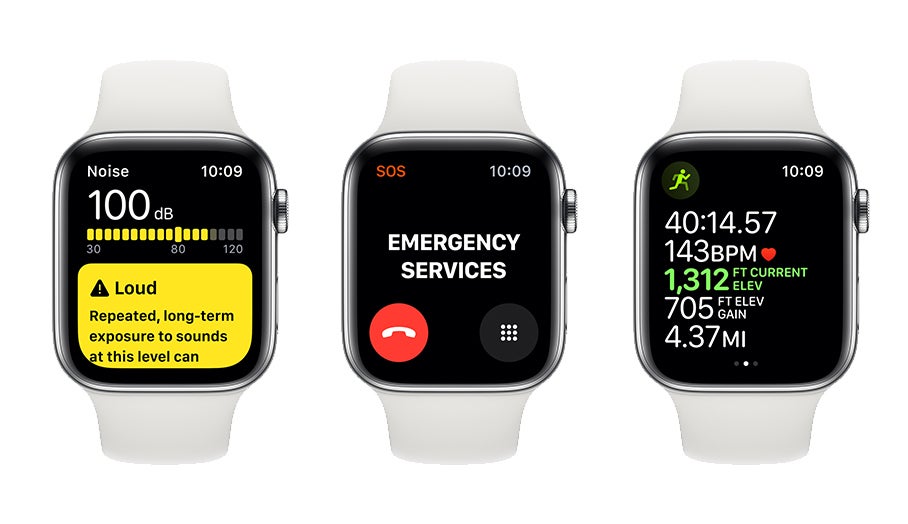 When considering between the Apple Watch Series 3, Series 4, and Series 5, the biggest differentiator is in their fitness and health tracking abilities. All three models are more than capable of monitoring your heartbeat and various sporting activities, but then the Series 4 can also do ECGs (electrocardiograms), while the Series 5 can do everything the older models can, as well as some new stuff, courtesy of watchOS 6.
The Series 4 and 5 come with newer, more advanced accelerometer and gyroscope sensors that give them greater sensitivity than the Series 3. This allows the newer models to not only track your moves more precisely, but to also detect if you fall or slip on the ground and call for help if necessary. We're sure you've heard some of the countless stories of people that were saved by their Apple Watch, and with Series 5, every cellular model has international emergency calling, and it works even without an iPhone!
Surprisingly, the Series 5 doesn't natively support sleep tracking—a feature that was widely rumored to be coming to the new model—so that's not something to consider when choosing a model. Of course, you can always get similar functionality by installing a third-party app, but that's a different story.
Since it runs watchOS 6, the Apple Watch Series 5 has a couple of new health tracking features, which we will outline in the "Software" section below.
Software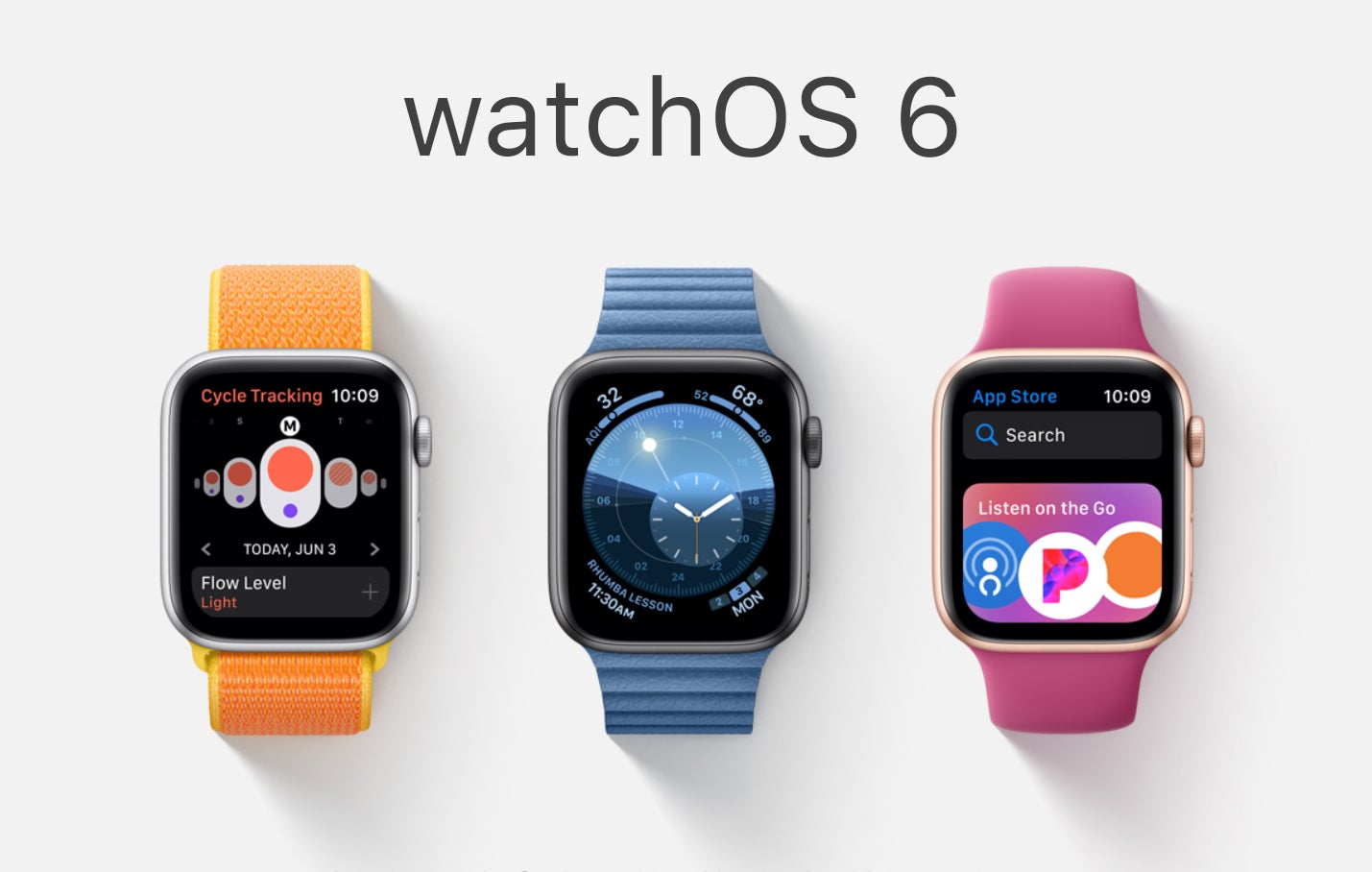 The Apple Watch Series 5 runs watchOS out of the box, and it has a handful of neat new features related to health tracking. These are the Cycle Tracking app, which gives users the ability to log important information related to their menstrual cycles, and see predicted timing for their next period and fertile windows using the convenience of Apple Watch. The new Noise app helps users understand the ambient sound levels in loud environments such as concerts and sporting events that could negatively impact hearing, and Activity Trends on iPhone provides a long-term view of their activity patterns to help them understand their progress.
WatchOS 6 also brings dynamic new watch faces, including Meridian, Modular Compact and Solar Dial, which can be easily customized for quicker access to favorite apps. That's cool and all, though the Apple Watch still doesn't have a dedicated watch face store like most of its competitors.
Navigation

Updated location features on Apple Watch Series 5 also mean better navigation tools. The new built-in compass and updated Maps app allow users to see which way they are facing. With Series 5, you can use the new Compass app to see heading, incline, latitude, longitude and current elevation. You can even add one of three new Compass complications to the watch face to see direction at a glance.
Price
The Apple Watch Series 5 starts at $399, no surprises here. The surprise, however, comes in the discontinuation of the Series 4. That's right, the previous model has been discontinued by Apple (though it is still widely available through retailers), while the Series 3 has been generously discounted to $199 (from $279). That's quite the difference between the Series 5 and the Series 3, and both are very capable. Apple probably decided to axe the Series 4 because it's quite similar in functionality to the Series 5, while the 3th gen Watch is different enough to provide a "budget" option next to the new model.