iPhone 11 and iPhone 11 Pro new camera features explored!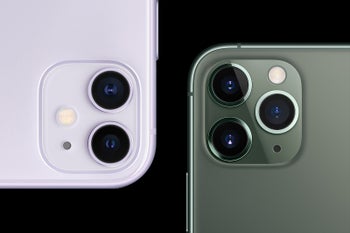 Apple just announced the new iPhones – the
iPhone 11
, which has two cameras, and the
iPhone 11 Pro
and Pro Max, both of which are stacked with three main cameras. But in this day and age, the number of lenses on a phone's back alone is not something that will impress the masses (unless there's four or more of them), and that's why Apple is betting heavily on delivering amazing results through a myriad of software improvements. And if today's presentation is anything to go by, the iPhone 11 lineup is chock-full of new features that will enhance the photography experience.
So much new stuff was announced, that we couldn't possibly talk about every single bit. That said, we wanted to go over the most important things that were revealed today, including what the differences between the iPhone 11 and 11 Pro, and what they are capable of, in terms of shooting photos and videos.
First thing's first – what separates the three models? The biggest difference between the new iPhones, as far as the camera is concerned, is that the iPhone 11 has two main cameras, while the Pro models have three each. The iPhone 11 has a standard snapper and an ultra-wide angle lens on its back, while the Pro models also throw a telephoto camera into the mix. That's the big differentiating factor in terms of hardware, while everything else comes down to the new software features.
The iPhone 11 has Night Mode... finally!
The iPhone has been behind the competition, when it comes to taking pictures in the dark. The likes of Google and Huawei have gone to great lengths to allow users to snap pictures in extremely unfavorable lighting conditions, and though we don't think that anyone needs to be able to take pictures in
complete
darkness, being able to comfortably take photos around town after dark is a convenient thing. With the iPhone 11, Apple follows suit with its own take on Night Mode.
Apple's Night Mode uses next-generation Smart HDR that harnesses the power of machine learning to recognize subjects in the frame and intelligently relight them for more natural-looking images with greater detail. To deal with visual artifacts and excessive noise, which sometimes crop up when taking pictures in dimly lit environments, there's a new image processing system called Deep Fusion that does
pixel
-by-pixel processing to optimize the texture, details and noise in every part of the photo. Deep Fusion heavily relies on the Neural Engine of the A13 Bionic chip and is not yet ready for prime time, though what we've seen at the presentation was mighty impressive. Deep Fusion will roll out to the iPhone 11 and 11 Pro later this fall.
Portrait Mode is getting even better
Portrait Mode samples from the iPhone 11 and iPhone 11 Pro
When Apple introduced Portrait Mode on the
iPhone 7
, it was pretty much a beta test. Heck, it was
literally
a beta test! But Portrait Mode has grown and evolved a lot over the years. On the iPhone 11 and iPhone 11 Pro, Portrait Mode works both on the wide and telephoto camera, giving you greater freedom to choose the framing of your subject. What's more the actual depth-of-field simulation seems to have improved quite a bit, allowing for more accurate separation between subject and background, and for smoother "bokeh" rendering.
We've never been huge fans of wide-angle portraits, so we were pleased to learn that the telephoto camera on the iPhone 11 Pro and 11 Pro Max has been upgraded specifically for Portrait Mode. The new telephoto camera features a larger ƒ/2.0 aperture that allows it to capture 40 percent more light when compared to
iPhone Xs
. This is especially useful for taking portrait photos in more subtle lighting, but is also just a great improvement in general (for both stills and video).
With the more powerful A13 Bionic chip, the Portrait Lighting adjustments can be made right in the Camera app to tweak the intensity of light on a subject, while a new High-Key Mono effect creates a striking and stylized look for Portrait mode photos.
4K video with cinematic stabilization
With the iPhone 11 and iPhone 11 Pro, Apple says that it has "
set a new standard with the highest quality video ever in a smartphone."
That's a bold claim that we can't wait to put to the test, but until then, we only have the presentation to go off of. And what we saw was, indeed, very intriguing!
On the iPhone 11 Pro, and 11 Pro Max, each camera in the triple-camera system can record video in 4K resolution with extended dynamic range and cinematic video stabilization. With its wider field of view and large focal plane, the ultra wide camera seems like a great choice for shooting action-packed videos. You can freely zoom between each of the three cameras, while a new Audio Zoom feature is employed to match the audio to the video framing for more dynamic sound.
iOS 13 also introduces a set of new video editing tools that allow you to rotate, crop, increase exposure and apply filters to videos instantly. These adjustments are easy to apply and review at a glance in the Photos app.
The great video recording capabilities extend to the front-facing camera as well. The new TrueDepth camera has a 12MP sensor and a lens with a wider field of view to capture selfies, while the same next-gen Smart HDR processing system that's used for the main camera enables the front-facing camera to record sharp 4K video with extended dynamic range at up to 60 fps and 120 fps slo-mo.
Redesigned camera interface
It was high time for Apple to tweak the way its Camera app looks and works. The changes are by no means groundbreaking, but the iPhone 11 and 11 Pro feature a subtly redesigned Camera app that makes better use of the tall display and bezel-less design.
The biggest and most meaningful change in this area, is arguably the new QuickTake feature, which allows you to record a video without switching out of Photo mode. To initiate the feature, simply hold the shutter button, and you'll automatically start recording a video.