App turns Google Glass wearers into reporters
6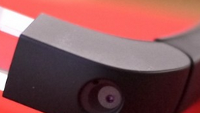 Do you have a dream to someday be an news reporter, broadcasting live from a major story? Do you often hold a hair brush, pretending it is a microphone, and say your name followed by "
NBC News, Kalamazoo, Michigan
". If so, you probably will really enjoy a new app for Google Glass called "Livestream for Glass." The app sends a live shot from the camera on Glass, to an online broadcast. Using the Livestream Studio app, the camera on your connected specs can be turned on and off and controlled remotely back in the studio.
Those watching your feed, whether as part of a bigger online broadcast, or as a solo stream, can send you text messages that you will be able to read on your Glass, and respond to by voice. The app starts broadcasting with the command of, "
Ok Glass, Livestream
." And while you are sending back live video and audio, you can see how long you've been transmitting for, and how many people are watching you.
The eyepiece is illuminated when recording, which is like the red light on a television camera. Those that don't want to be part of your live feed can try to stay out of range of the camera.
The Livestream app is also available for Android phones and for the Apple iPhone, so that you can view live streams from major events, and broadcast live from your phone.
source:
Livestream
via
Slashgear