App study trolls Android tablets to pander to iPad App Store
22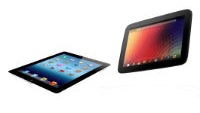 No doubt, you see studies like this all the time, and the conclusions that people draw from those studies are always silly. Well, Canalys has looked at the top 50 free and paid apps for iPad in the Apple App Store and compared those results to Android tablet offerings in the Google Play Store. Not surprisingly, there are a number of iPad apps that either don't exist or aren't optimized for Android tablets.
If you look around the web, you'll see plenty of bait-riddled headlines proclaiming
that half of the top iPad apps either aren't available or aren't optimized for Android tablets
. And, based on this skewed study, that claim is true. But of course,
if you were to look at the case from the other side, the data wouldn't look so good for Apple either
. To be fair, there is good information here, and there are important points that can be draw, but to do a one-sided study like this and automatically jump to conclusions is irresponsible at best.
iPad top apps vs Android
Canalys found that out of the top 100 iPad apps (top 50 free + top 50 paid), 30 of those apps flat out don't exist for Android tablets. Of course, you should keep in mind that
11 of those 30 are apps made by Apple
, so there's no way you should expect those apps to exist on Android anyway. That leaves 19 out of the top 100 that aren't available right now for Android. We say right now, because if you had done this study at a different time, the results would be different, because some of the top iPad apps that aren't on Android will eventually come to Android, like FIFA Soccer 13.
It should also be kept in mind that
just because a specific app from a specific developer isn't available on Android doesn't mean that there are no viable alternatives to said app
. For example, the app listed at number 3 on the top free iPad apps list is a calculator app, of which there are dozens to choose from on Android. Similarly, Notability is number 6 on the top paid iPad apps list, but obviously there are plenty of note taking apps available for Android, just not that specific one. That said, a number of the apps that aren't available on Android would be pretty nice, like Amazon Instant Streaming, and NBC Universal.
We decided to
take a look at the Google Play Store on our Nexus 10
, and see what things would look like if you switched the perspective. Right off the bat, 5 out of the top 10 paid apps for Android tablets don't exist on iPad, because iOS doesn't support widgets, alternative launchers, or alternative keyboards. Going further,
19 of the top 50 paid apps for Android tablets don't exist on iPad
. The number is far less with free apps, because the vast majority of those are cross-platform, but even so the numbers come out to be the same (once you remove Apple apps from the count).
Developer apathy
The Canalys study does however show some interesting information that points to a continually annoying problem for Android tablet users: developer apathy. Canalys found that
even of the top iPad apps that were available on Android, 18% were not properly optimized for Android tablets at all
(Canalys did count apps that were even slightly optimized, even if they don't look good like Facebook or Twitter.) Combine that number with the developers who have apps that should be on Android (EA, NBC, Amazon, etc) but either don't or push apps to Android well after iOS, and you get a glimpse at the real problem.
Every developer has its own reasons for not bringing certain apps or games to Android, or not putting as much in resources towards Android development as is put towards iOS, but in many cases it comes down to money. We've seen the numbers time and again that Apple's App Store flat out
brings in more revenue
than Google Play, although Google Play is growing at a much faster rate.
Developers like Twitter and Facebook have no excuse. Amazon most likely wants to keep its streaming service on its own Android-based platform, Kindle Fire. But for game developers like EA, it likely comes down to the cost of development compared to the likely return on investment. Even that can be tricky though. Maybe the development for something like FIFA Soccer 13 isn't worth it because Android users might not pay $7 for the game, or piracy could be a deterrent. But, the development cost compared to the ROI for a game like Bejeweled HD (which is free with in-app purchases) can't be that burdensome.
Of course, it probably doesn't help that developers don't even try to sell apps as much on Android. In addition to the top iPad apps that weren't available on Android, there were
6 apps that were on the top paid iPad list but were listed for free with ad-support in the Google Play Store
. Ad-supported apps routinely bring in less revenue than paid apps, and given that Android users have proven recently that they will pay for apps, it seems silly to continue this trend.
Conclusion
Yes, there are apps for iPad that don't exist for Android, but to be fair, there are also apps for Android that don't exist for iPad. And, at least on the Android side, the reasoning is because iOS simply doesn't do what Android can. Going the other way, it just points to lazy developers who either don't believe it's possible to make money on Android, can't be bothered to understand the platform, or maybe even still believe that no one uses Android tablets (which of course isn't true, since
Android tablets have overtaken the iPad
).
There are plenty of developer issues that need to be sorted out in the Android ecosystem, especially when it comes to 10-inch tablets, but anyone trying to use this study as some sort of proof that the Google Play ecosystem is far behind is just silly. We all could use more perspective than that.