The Apple App Store continues to outperform the Google Play Store
37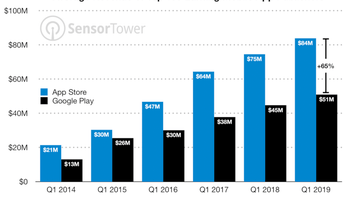 Even though Android dominates the global smartphone market with a market share estimated at 85%, the Apple App Store consistently generates more revenue than the Google Play Store.
The latest data from app researcher Sensor Tower
(via
AppleInsider
) reveals that the top 100 apps in the App Store brought in $83.8 million during the first quarter of this year. That is 65% more than the $51 million collected by the top 100 apps in the Play Store during the same three month period. The spread declined slightly from the 67% advantage the App Store had during the same time period a year ago.
Interestingly enough, both app storefronts had nearly the same compounded annual growth rates (CAGR) from Q1 of 2014 through Q1 of 2019. The App Store's CAGR of 31.3% during that period narrowly beat out the Play Store's 31.2%. Looking at the first quarter of each year from 2014-2019, the gap between the revenue collected from the App Store's top 100 apps and the Play Store's top 100 apps ranged from a low of 15% (Q1 2015) to a high of 68% (Q1 2017).
Non-gaming apps on iOS have done much better than their Android counterparts. Last quarter, the average revenue of the top 100 non-gaming apps was $23.3 million on Apple's mobile platform compared to $7 million on Google's mobile platform. That is a huge 232% difference, but the spread is much closer than the 363% difference seen in the first quarter of 2018. That's because last quarter the amount of money spent by Android users on non-gaming apps rose 44% year-over-year compared to the 30.5% rise for iOS users.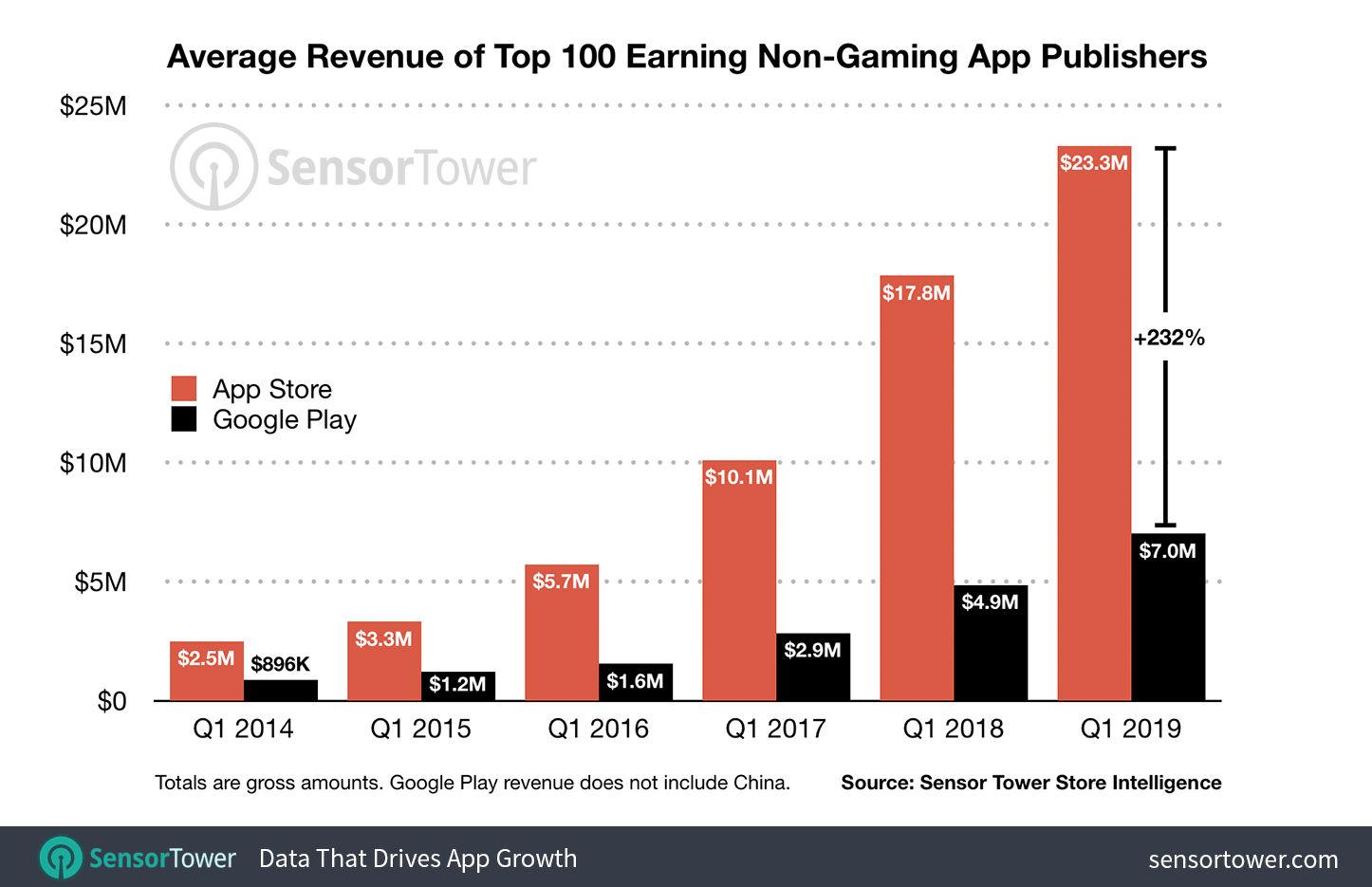 Revenue from top 100 non-gaming apps on iOS and Android
When it comes to gaming apps, Apple's advantage is not as large. The average revenue of the top 100 gaming apps on iOS last quarter was $70 million compared to $48 million for the Play Store. That is a 48% spread, narrower than the 57% difference seen in Q1 of 2018. Sensor Tower says that year-over-year, Android users increased their spending on the top 100 gaming apps in Q1 by 14.3%, while iOS users hiked their spending by a lower 9.4%.
Last year, iOS users spent 88% more money in the App Store than Android users spent in the Google Play Store. Much of this disparity is the result of Android's huge market share in developing countries where consumers might lack the funds to buy many paid apps.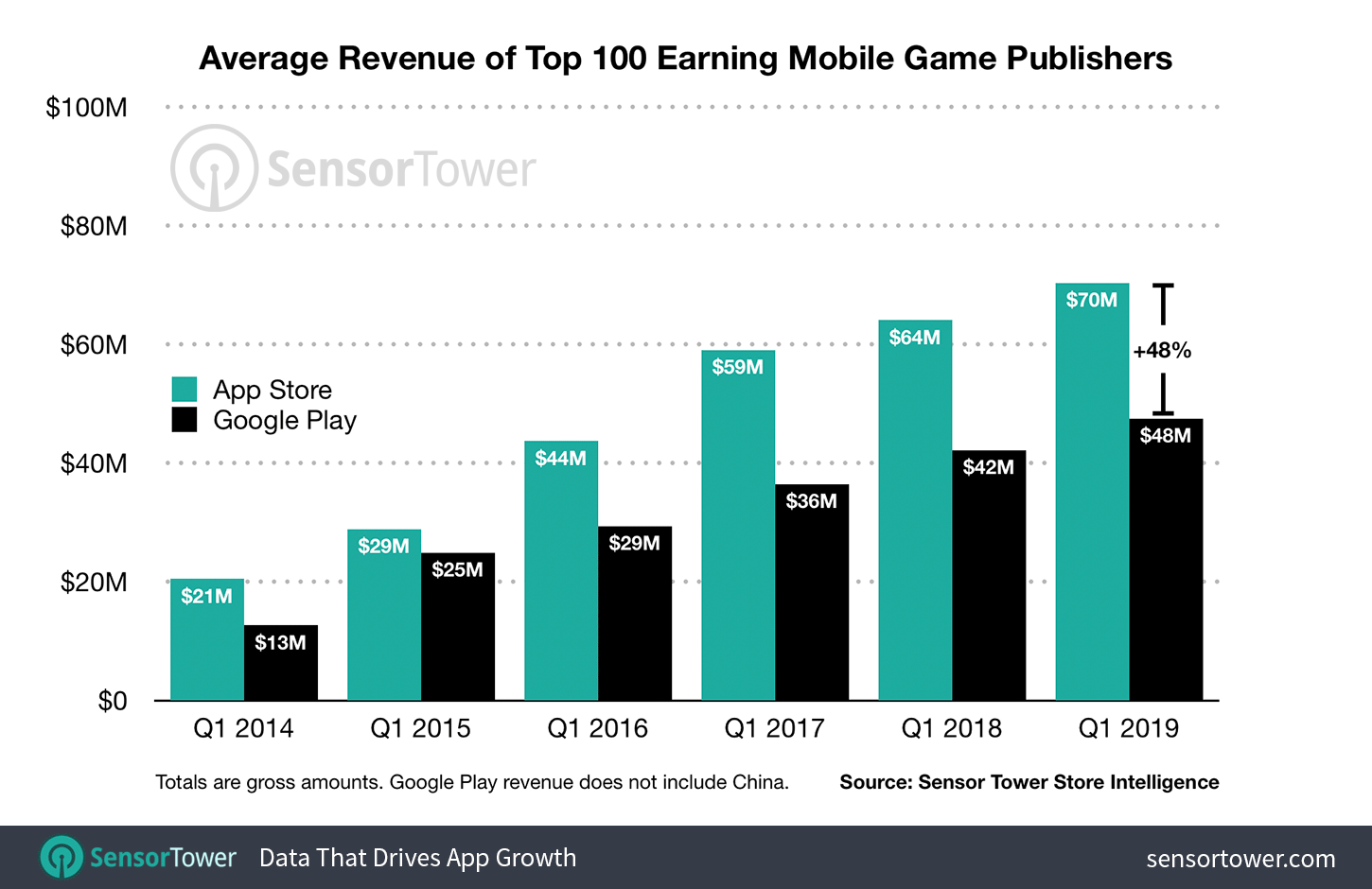 Revenue from top 100 gaming apps on iOS and Android