Any iOS 7 update issues? Report them here!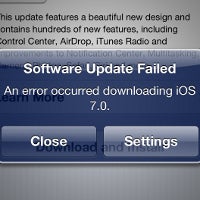 iOS 7 is finally here (and so is our
iOS 7 review
), and countless users around the world are downloading the new software at this very moment. For some users, though, iOS 7 will probably not arrive so smoothly. For example, we have already experienced a bit of a glitch, with the download giving us an unknown error, for a seemingly unknown reason (unknown to us, at least).
If you, too, are getting error messages, don't freak out (just yet), as there is no doubt that Apple's servers will be tremendously busy during the next few hours, which can explain the occurrence of such random issues.
Hopefully, things should be back to normal soon, but in the meanwhile, be sure to let us know if you're experiencing a problem with the download and installation of iOS 7 (or if you've found the solution to one)!