Another light-hearted video pokes fun at Google's Project Glass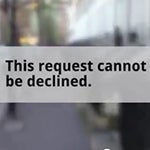 Google's
Project Glass
unveiling has already inspired a series of parodies. We brought you one such video
earlier today
, which remixed current Google ads into their demo video. Here is another short video, which raises the specter of privacy issues that could arise from improper use, or poor design.
We find the
real project
pretty inspiring; we don't really think Google would share your information with the police (as shown in this video, and the whole point of only covering one eye is to allow you to navigate the real world while using Google's HUD glasses, but that didn't make us laugh any less at the video below.
Warning, some of the language is NSFW for strict work environments, so exercise caution!
source:
tomscott.com
via
Huffington Post