Google's Sergey Brin wears Project Glass prototype at a party (pictures)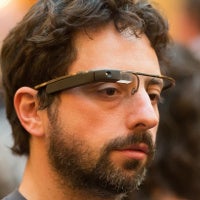 Project Glass
stirred our imaginations when we first saw it yesterday, and while it's far from getting an official release date, Google co-founder Sergey Brin was spotted wearing a prototype at the
"San Francisco Dining in the Dark"
charity event. Robert Scoble saw Brin and snapped two pictures of the Google executive, and commented:
"When I first got here I spotted Google co-founder +Sergey Brin. He was wearing THOSE GLASSES! He quickly told me it is a prototype. I saw a bluish light flashing off of his right eyeball. I could only guess that my Google+ profile flashed up, or maybe some PR voice said "stay quiet" or something like that. But the glasses are real. Very light looking. Most of the people around us had no idea that these glasses are pretty special."
Brin didn't allow Scoble to try the glasses on as they were an early prototype, but they seemed to him
"self-contained."
TheVerge also spoke to Brin after the event and learned that it's way too early to know when they'll get released. While usually Google doesn't announce products so much in advance, it made an exception for Project Glass as it wanted as much feedback as possible.
"right now you really just see it reboot."
The most important test the new product would need to pass is RF certification. This might prove tricky as the FCC would be treating this as basically a smartphone that's always close to your head.
Here's to hoping Google manages to deal with all the issues, if so - the product should appear by the end of the year, as rumor has it now.