Angry Birds downloads reach 350 million
13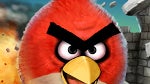 Rovio general manager Andrew Stalbow took some time from his busy day (playing Angry Birds, no doubt!) to discuss Angry Birds, the game
that has become a cultural icon and phenomenon
. The game has spawned the usual pop culture spinoffs like the Angry Birds lunch box, t-shirts and more. Who knows, we could see the HTC Angry Birds get launched one day.
Stalbow says that Angry Birds has now
been downloaded more than 350 million times
. Even more amazing is the stat he quoted that each day, users spend 300 million minutes playing the game! Short films on YouTube have been viewed 170 million times and speaking of millions, we can only guess about the amount of money that has been flowing into Rovio's coffers. The executive, a former Fox Entertainment executive, joined Rovio with the task of turning Angry Birds into a franchise like Pokemon, that can dominate in multiple media categories like video games, television shows, toys and movies. One of his deals allowed Rovio to produce a "Rio" version of Angry Birds that was released alongside 20th Centrury Fox's animated movie, "
Rio
". Stalbow says that such partnerships will eventually take what the company did with Angry Birds Rio to a new level.
Rovio is currently in the midst of obtaining additional financing that
values the company at $1.2 billion
, and the company will be focusing on its Angry Birds franchise for the time being. The last round of financing the company went through back in March raised $42 million. Currently still expanding, the company has 50 employees in Finland. If and when the company does do an IPO, we have the perfect NASDAQ symbol for Rovio-PIGS.
source:
VentureBeat
via
IntoMobile