Android's U.S. share hits all-time high; analyst sees Android offering Siri-type service in Q1
45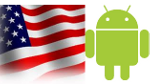 The latest comScore survey has been released and it shows that as of August, the green robot was scoring an all-time high in its share of the U.S. smartphone market. At 43.7%,
Android's slice of the Stateside pie grew as much in August as it did in July
, which the analytics firm took as a sign of a possible slowdown for Google's open source OS. According to comScore, much of the gain in Android's market share for August
came from those leaving the BlackBerry platform
. BlackBerry's share of the U.S. smartphone market dropped 2 points in August to 19.7%, down 5 points since May. The next reading will be more important for RIM as it will include results from the launch of its new devices running BlackBerry 7 OS.
With a nearly 8 point lead over RIM, Apple gained .3% on the month to control 27.3% of U.S. smartphones while Windows Mobile and Windows Phone combined for a steady reading of 5.7% which is good news for Microsoft. The crew at Redmond has seen its market share usually decline every month. As for manufacturers,
Samsung added to its leading market share at 25.3%
. Apple rose to a 9.8% slice of the pie while LG, Motorola and RIM all lost ground.
Meanwhile, analyst Alex Gauna with JMP Securities said that Apple's introduction of the Apple iPhone 4S lacked panache and he feels that with the lack of a larger screen size and LTE connectivity on the new iPhone, Android will continue to grab market share away from the Cupertino based firm. Industry checks he made show that
Android will have it's own natural language recognition system
in the first quarter of 2012, to compete with Apple's Siri system,
which was announced yesterday
.
source:
comScore
via
electronista
(survey),
AppleInsider
(analyst)