An Android phone for children shown at MWC 2018
4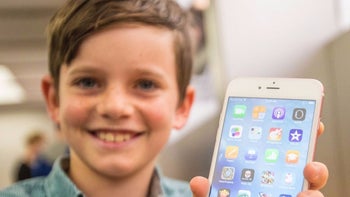 A week ago we told you about a survey on smartphone addiction that showed
some intriguing results
– 47% of parents in the US think their kid is addicted to their smartphone. Worry not, as this percentage might get lower soon – Spanish company EscudoWeb, which creates educational products, has shown its newest project at MWC 2018. It's called the phoneKid – an Android smartphone for children, which lets parents dictate when and how the youngsters use their smartphone.
The smartphone, which runs on a modified version of Android to prevent security bypass, lets parents remotely control their child's device at any given time using an app. You'll be able to give your kid access to the apps you choose, or set up profiles to give access to a set of apps. For example, if you activate the "Study mode" profile, your youngster will only have access education-related apps, such as Calculator, Word, and so on. You could also block the homescreen on the child's phone and replace it with an activity command as another way of telling your kid what to do next.
There are some built-in restrictions too, preventing the child from pulling out shenanigans to reduce your control. Your kid won't be able to turn the phone off or disable location tracking, although the latter won't be available if the phone runs out of battery.
But is there even a market for such a product? For starters, we don't believe a kid will ever be eager to get a smartphone, knowing it's going to be under control at any given moment, so the product might turn out to please only a niche audience. Also, with the built-in security features and a modified Android version, we could expect a solid price tag on this one, which could result in low sales as well, but, speculations aside, we shall wait and see.
All things said, there's already a cheaper (actually free) way to control your child's smartphone and
it's called Google Family Link
. It's an app that lets you set up restrictions on your child's device, including banning websites, locking out apps and even setting up a bedtime, after which the phone can't be used.
Recommended Stories