Survey shows that 47% of U.S. parents think their kids are addicted... to mobile devices
13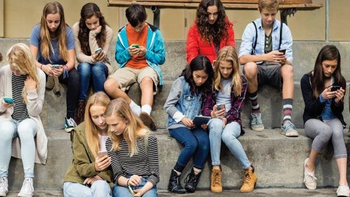 As if parents didn't have enough to worry about these days when the headlines scream about school shootings and the opioid crisis, there apparently is another issue facing the youth of America. According to an online survey of 4,201 U.S. parents that was conducted at the end of last month by Survey Monkey, 47% of those responding said that they feel their child is addicted to mobile devices. Since there were only two options given to those taking the survey, 53% said that their child isn't hooked on handsets.
These same parents responded that nearly three-quarters of their kids have access to a connected mobile device like a smartphone or tablet. 60% of the youngsters own their own device, while 14% share a phone or tablet with someone else. 24% of the kids do not have a connected mobile device to use. Interestingly, 50% of the parents are not concerned about these devices affecting their kids' mental health, while the remaining 50% do have concerns.
Parents do admit that they are the ones responsible for limiting their kids' mobile device usage and keeping them away from inappropriate images on streaming video app/site YouTube. 60% of the grown-ups said that YouTube does an acceptable job at preventing kids from seeing videos that they are too young to view. 36% disagree, calling the video streamer's efforts in this area "poor." Only 40% of the parents employ YouTube's parental controls. While 37% said that they do not avail themselves to this feature, 22% didn't even know that they were being offered by YouTube in the first place.
Lastly, only 68% of the parents responding to the survey feel as though they are addicted to their mobile device. 32% said that they can't live without their smartphone or tablet. Sounds like there are quite a few adults in denial.
source:
CommonSense/SurveyMonkey