Android keeps us hungry for new OS releases; after Honeycomb will come Ice Cream
17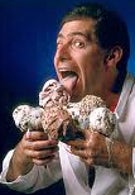 Keeping the dessert tray coming, the next version of the Android OS after Honeycomb will be Ice Cream according to Forbes. Since Cupcake, we have been treated to Donut, Eclair and the current Froyo builds of Google's open source OS. Gingerbread is expected to grace certain smartphones-
like the Motorola Olympus
-before the end of the year or early in Q1 for 2011. Honeycomb should follow early next year with Ice Cream due out in the middle of 2011, according to the magazine.
The Ice Cream, uh, leak comes from Tudor Brown who is the president of ARM. That company makes processors which integrate with electronic devices, some of which run Android. He told Forbes about the Ice Cream name for Android 4.0. This is the second time in recent memory that a leak revealed the name of an upcoming Android OS release. Before The Mountain View based company had a chance to make the announcement, Samsung had leaked the Gingerbread name at a trade show this past September.
So now we know that the name of Android 5.0 will probably be a dessert that starts with the letter "J". Any ideas?
source:
Forbes