Motorola Olympus "about screen" revealed, or is it all just a fake?
8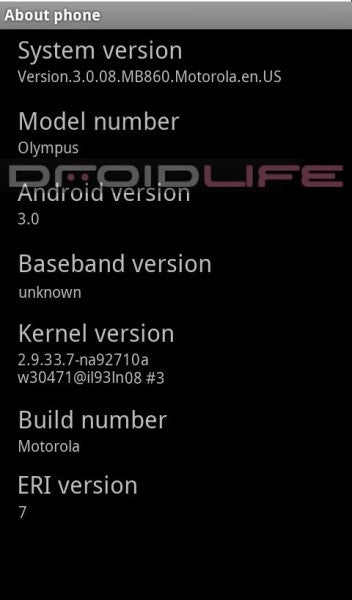 Now that it seems that the AT&T bound Motorola Olympus will be the first Android device to run the Gingerbread OS, we are starting to see the leaks that usually start to appear before a product is introduced. Right now, we have a screen shot from an Android 3.0 device of questionable legitimacy. While this "about screen" is said to have come from the Olympus, we still have no confirmation that Gingerbread will be Android 2.5 or 3.0. You might also note the lack of a notification bar.
But the lack of this bar doesn't totally rule out the picture as being the real thing. According to a so-called Android insider named Romain Guy, the photo you see of his home screen-also with no notification bar-is a stock and unmodified version of Android that runs on his Nexus One. He refuses to reveal which version of Android he is running, but we would imagine it is Gingerbread.
A convoluted story to be sure, but still plausible. Anyone care to share an opinion in the comments box below?
source:
Droid-Life

This is supposedly an un-altered stock Android OS