Motorola Olympus "about screen" revealed, or is it all just a fake?
This article contains unofficial information.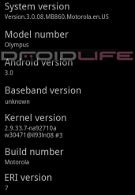 But the lack of this bar doesn't totally rule out the picture as being the real thing. According to a so-called Android insider named Romain Guy, the photo you see of his home screen-also with no notification bar-is a stock and unmodified version of Android that runs on his Nexus One. He refuses to reveal which version of Android he is running, but we would imagine it is Gingerbread.
A convoluted story to be sure, but still plausible. Anyone care to share an opinion in the comments box below?
source:
Droid-Life