Android gets ahead of Symbian in Asia in Q3
15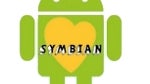 Smartphone sales in Asia have been one in every five phones in the quarter ending September 2010, according to GfK Asia. That is almost fourfold increase compared to the same period of last year, and amounts to over 4.7 million smartphones sold, half of all sales in value.
What attracted our attention to the study, though, is not the growing relative percentage of smartphone sales, this is a worldwide trend. Much more interesting is that in the Asian region as a whole, Android has now taken the lead compared to the previous top dog Symbian, according to GfK Asia. Nokia's phones are hugely popular there, and Symbian is still leader in the Southeast. In North Asia, though, Android has overtaken iOS as the most popular mobile platform, while the trio Android, RIM and iOS has taken a sizeable chunk of Symbian's market share overall.
We will see if this is a harbinger of things to come, and still, it is better to judge Nokia's performance after the sales results for the
Nokia N8
and
Nokia E7
are in, and that won't be until Q1 of next year.
via
Symbian-Freak