Android gains corporate clients at BlackBerry's expense
5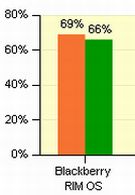 A new survey by
ChangeWave
, taken from 1,602 corporate IT buyers, reveals that the Android OS is being rapidly adopted by businesses. The Android OS now makes up 16% of the corporate market, up more than five-fold from 3% in November of 2009. A whopping 6% of that growth took place in only the last three months.
The business-sector success of Android comes as RIM's market share is slipping. RIM's BlackBerry line lost 3% over the last three months, dropping to 66%. Their decline might be due in part to
RIM's wavering support abroad
.
While RIM is still the dominant supplier of corporate clientele, the change is still indicative of Android and others gaining corporate credibility.
Apple's iOS is also on the rise, from 30% to 31% in the same three month period. Windows Mobile and Palm's webOS are both down 1%.
Google's Android OS may be on its way to becoming the corporate standard, particularly if businesses begin integrating
Google's ever-widening range of services
.
source:
InvestorPlace
via
IntoMobile