Android distribution numbers for August are in; Oreo gains 2.5 percentage points
14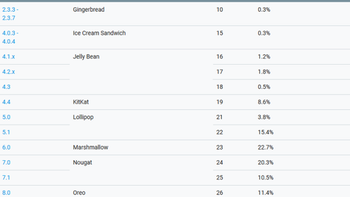 The August Android distribution numbers are in, and any thoughts you had about Android 9.0 showing up in the results were strictly pie-in-the-sky on your part. Based on all of the Android devices that visited the Google Play Store over the last seven days, less than .1% of Android phones and tablets are running the latest and greatest build of Android.
Well, it seems that Android 7.0 Nougat is currently powering the most Android phones with a combined 30.8% share between Android 7.0 (10.5%) and Android 7.1 (20.3%). That is the
same exact figure reported for Nougat last month
. Android 8.0 and 8.1 Oreo can be found on 14.6% of Android devices, up from 12.1% in the last report. When you study these figures, you understand why Android 9.0 Pie isn't even listed. More phones need to be running Oreo before we see Pie represented. Currently, Android 9.0 is available only on Pixel handsets and the
Essential Phone
.
After Nougat, the next most widely used build is Android 6.0 Marshmallow, found on 22.7% (down from July's 23.5%) of phones and tablets running Google's open source operating system. Android 5.0 and 5.1 Lollipop remain on 19.2% of devices followed by Android 4.4 KitKat's 8.6%.
JellyBean (4.1.x-4.1.3) still runs 3.5% of Android devices while Ice Cream Sandwich (4.0.3-4.0.4) and Gingerbread (2.3.3-2.37) each are on .3% of the units that visited the Play Store in the last week. Strangely, Gingerbread's share actually rose by .1 percentage point from July.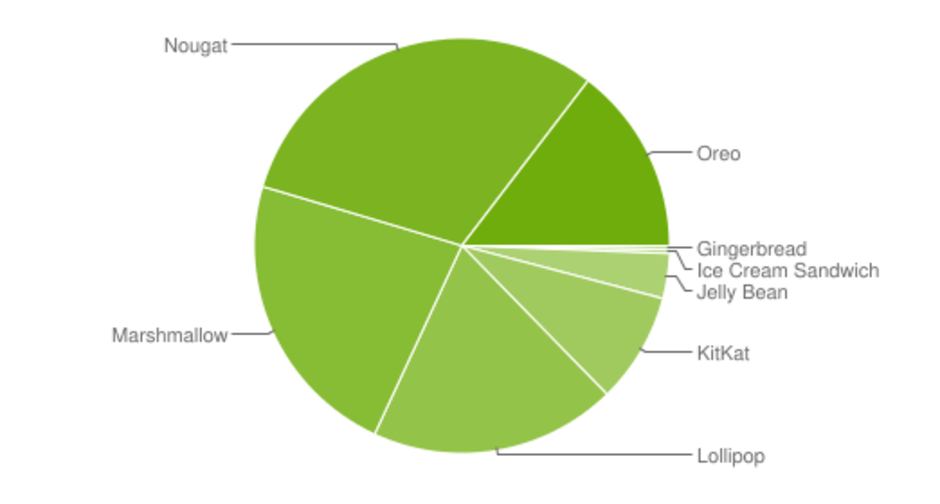 You might notice that this pie chart has no Pie