Android customization monthly: Best new launchers, widgets, icon packs, and wallpapers (March)
2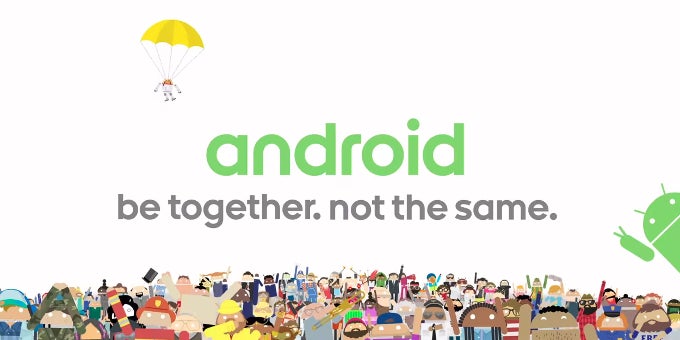 If you're particular about the things you like and dislike, and love having control over the user experience, it's fair to say that Android is your platform of choice as far as smartphones are concerned. We'll never tire of repeating that despite it sounding like a cliché, if customization is on your mind, then Google's mobile OS is where it's truly at, and we're here to help.
As the regulars among you know, we've been running several columns on Android customization – spanning widgets, icon packs, launchers, and wallpapers – for months now, and we like to end each with a nice round up of the best of each category that you should definitely check out if you're in an adventurous mood.
Like always, let's begin with launchers.
Best new launchers

A number of launchers caught our attention in March, a few of them more niche than the rest. For example, we're finally starting to see launchers that are built from the ground up with either Android TVs (including dongles) or cars in mind (alike to Android Auto).
Top TV Launcher
Price: $1.19
If, at some point, you decided that turning your dumb TV into a smart one with the help of an Android-based dongle or set top box, then you may just find Top TV Launcher a great fit. This is especially true if you're using a generic dongle that comes with a non-optimized interface for landscape use, and would like something simpler and remote-friendly.
Drivermode - Driving UI (BETA)
Price: FREE
If your car lacks a decent infotainment system, let alone GPS navigation, then Drivermode - Driving UI will fit right in. It works by adding a gesture-loving overlay on top of your current interface, which you can control almost without looking, thanks to spoken feedback. It allows you to launch apps, send messages (or have them read back to you), call people, and easily find locations with Google Maps. Best of all – it stays out of your way whenever not in use, and is simple to summon back whenever you need it to.
Cold Launcher [ROOT]
Price: FREE / $1.99
MIUI fans will relate – not all of us care much about the app drawer that comes standard on Android. Indeed, we prefer having all our stuff available on the homescreen, iOS style. If you agree with that line of thinking, but don't won't anything overly complicated that gives you an endless stream of options and stuff to tweak, then Cold Launcher might just be what you're looking for. It's based on Android, and pays homage to the now trendy Material Design. A cool extra if you have root (you don't necessarily need it) is that you can freeze and unfreeze apps right from your home screen. Freezing an app will disable it and any background processes related to it, keeping your phone speedy and fresh.
Picoo Launcher—Material Design
Price: FREE
Another Android launcher that caught our attention, and is well-loved by the installed base, is Picoo Launcher. As its name implies, its downright tiny, at 1.6MB, and the developers claim that it adds virtually no overhead in terms of performance and power efficiency. Like Cold Launcher, Picoo Launcher, too, is styled with Material Design in mind, and even offers some neat functionality, such as smart folders (arranged apps by usage and other metrics).
Best new Widgets

Not interested in starting from scratch with a whole new launcher? Then a new, cool widget might just be what you need!
S6 Zooper Widgets
Price: $1.05
If you dig the new widgets look on the Samsung Galaxy S6 and Galaxy S6 edge, this Zooper Widgets skin pack is for you. Do ensure that you have Zooper Widgets Pro installed prior to doling out the big bucks, though, as it is required to make this pack work.
Sense 7 (HTC M9) Zooper PRO
Price: FREE
Another major reveal at MWC 2015, the HTC One M9 also came packing an updated version of the company's proprietary Sense skin – one respecting Google's Material Design guidelines. As you can imagine, the widgets incorporated within also went through a visual change, and you can now get that same look on your device for free. Again, make sure you have the paid version of Zooper Widgets before installing, as it is required to make the skin work.
Geometry for Zooper Widgets Pro
Price: $1.81
92 customizable skin templates for Zooper Widget are up for grabs with this pack. The really cool part is that the design can differ significantly between the different skins, allowing you to have your pick between semi-transparent widgets, Material Design-inspired ones, and more. Again, you need Zooper Widget Pro for this pack to work normally.
Wear Charging Widget
Price: FREE
Last on our list is a widget made with Android Wear smartwatches in mind. As the name implies, Wear Charging Widget will give you a nicely designed, minimal widget that will only kick in when your smartwatch is charging. Cool fact: the image will frequently move a bit to avoid burn-in on AMOLED screens.
Best new icon packs

Another sure way to spice things up on Android is to change your icon pack. This is usually only possible on devices that already utilize a third-party launcher, though power users will know that there are ways around this, too. Here's what caught our eye in March:
Circolium Icon Pack
Price: $0.99
The Circolium Icon Pack contains some 4100+ custom icons, 3 dynamic calendar icons, and support for icon back and mask. The pack plays nice with over 20 different launchers, so rest assured that yours is likely on the list.
Ponoco
Price: $1.49
We love Ponoco – the pack has beautifully styled icons, and works across a number of launchers. The down side? Its cache of icons numbers only 800, meaning that
some
of your apps will likely go unskinned, which can be a major problem. Let's hope that the devs behind Ponoc are already working on this.
Aylin Lite Icon Pack
Price: FREE
Aylin Lite is another icon pack that caught our fancy, but requires some more work before becoming perfect. Once again, the relatively small number of skinned icons in the pack is problematic, but at least you don't have to pay a dime to test it out and see if it fits your taste and is worth watching out for.
Vento
Price: $0.99
With over 1,400 beautifully styled, round icons, the Vento icon pack is hard to say no to. The pack comes with some 40 wallpapers included, complimenting the icon set, and support for dynamic calendar icon.
Sharped icon pack
Price: $0.99
Another newcomer to the icon pack scene, Sharped icon pack has a selection of over 480 HD icons and includes a number of fitting wallpapers. The list of supported launchers is rather large, so yours is likely on it.
Best new wallpapers

Lastly, let's talk wallpapers. Now, unlike the rest of the customization tools on this list, these can be used and enjoyed by anybody, regardless of whether you have an Android phone or not. What's more, while these have been hand-picked to be both beautiful and high resolution (higher than your Quad HD display, even), they will still work on your 1080p or 720p resolution smartphone. They'll even look better than a competing, resolution-fitting wallpaper.
The images in the gallery have been re-sized to save you bandwidth and time.
You can download the full-sized versions from here
.