Android customization monthly: Best new launchers, widgets, icon packs, and wallpapers (April)
5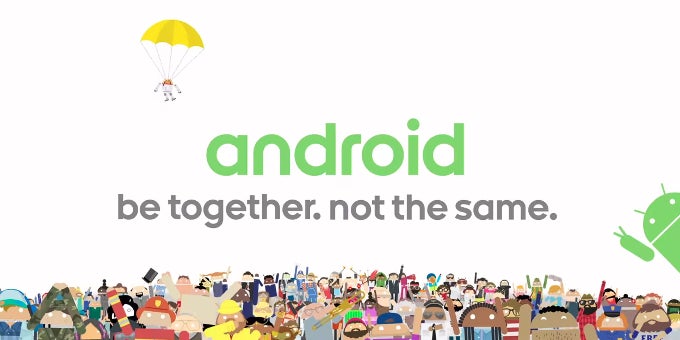 When it comes to customization, no competing platform comes close to Android. It may sound like a tired old phrase, but the reality is that the OS' underlying open source design has spawned a legion of faithful developers that are always hard at work, and the fruits of their labors are enjoyed by millions. If you enjoy changing things around and experiment with new types of functionality, then you're probably arleady appreciating our regular columns on Android customization — from launchers and icons packs, to widgets and wallpapers.
But today's a little different — this time around we'll be going through the entire catalog for April and selecting only the very best of each category. You
should
consider trying those.
As always, let's start with launchers.
Best new launchers

Sick of the way your homescreen looks like? Don't dig the limited feature set available through it? A third-party Android launcher is what you're looking for. It will completely change the way your homescreen and app drawer look and feel like, and some will even add some much needed extra functionality.
Here are the best new ones from April:
iNew Launcher
Price: FREE
The iNew launcher's main selling point is its app curating feature, which only populates your home screen with your most commonly used apps. Threst — like popular toggles — is available from the side bars, which are complete with an alphabetic locator that helps speed up access. Perhaps as importantly, the developers behind iNew Launcher have worked hard to ensure smooth navigation and great compatibility — the launcher itself is just 1.8MB in size and has support for thousands of icon packs and themes out of the box.
Launcher 10 prime
Price: $3.99
If you're serious about customization, then shelling out $3.99 shouldn't be too much of a problem, especially since you can get a refund within a 2 hour window. Launcher 10 prime offers dock styling and swipe, weather effects that apply to everything — even icons — and rich gesture support. That last one include pinch, swipe, two-finger swipe, clock/anti-clockwise rotation, and even double tap. The 'prime' version also unlocks a nice transparent status bar, and new transition and scrolling animations.
Launcher 10 Prime is the latest promising paid version that offers dock styling and swipes, weather effects that transition to everything down to your app icons, and rich gesture support - you get pinch, swipe, two-finger swipe, clockwise and anti clockwise rotation, as well as the obligatory double support. The Prime version unlocks a nice transparent status bar, and numerous scrolling and unique transitional animations. In addition, Launcher 10 Prime sports the useful shutter function that can open tens of widgets with a simple home screen swipe.
Infinity Launcher
Price: $1.71
If you're tired of the usual launcher look, then Infinity Launcher ought to bring a smile to your face. It's not the most customizable launcher there, but it is nevertheless quite personal — it hangs a profile picture and cover from one of your social network accounts, and has separate tabs for your appointments, weather forecast, and quick settings. Your apps are housed throughout these differing panes, though you have access to your app drawer by sliding from the side of the screen. Infinity Launcher also boasts a matching Android Wear watch face.
Best new widgets

If launchers sound like too much work, then you can spruce up your interface with a new collection of slick-looking widgets! Here's what came out in April that caught our eye:
Glam
Price: FREE
Not only does the Glam widget pack (works with Zooper Widgets) include some 40 different skins, but it all comes for free! Even better? The skins included are actually very nice-looking!
UX 4.0 G4
Price: $0.99
The recently announced LG G4 brought with itself a refresh to the company's custom interface. Called UX 4.0, the new layout looks quite similar to the old, but more in tune with Android Lollipop's design guidelines. We've always liked the widgets that LG comes up with, so when we saw that a pack with those exact skins for Zooper Widget is available, we just had to make mention of it.
Best new icon packs

Icon packs remain a clever way to keep your launcher and widgets, whilst still infusing some freshness to your interface. Almost without exception, these icon packs are made to work with an incredible amount of third-party launchers, so chances are that they will also work with yours.

Do you like the looks of MIUI 6? If that's the case, the Miu icon pack has got you covered. This icon pack is an almost perfect imitation of the icon pack included with MIUI 6 and boasts skins for over 2,700 apps.
Nevio
Price: $0.99
If you are looking for a new icon pack that is both stunning and has a high amount of icons inside, look no further than Nevio. With its 1,700 icons, selection of high-res wallpapers, and dynamic calendar support, this suite will give your UI a new and aesthetically-pleasing look.
Rugos
Price: FREE
The Rugos icon pack offers 1,352 icons, several dozens of wallpapers, dynamic calendar support, can work with Muzei, and gets fortnightly updates. And you know what? That's not even the best part — Rugos is actually one of very few completely free icon packs out there!
LCD
Price: $2.20
At $2.20, the LCD icon pack is not cheap. So it better have something pretty great to offer, right? Fortunately, it has an ace up it sleeve — a cool transparency is added to all icons, allowing for a better blend with your wallpaper.
Best new wallpapers

Lastly, let's talk wallpapers. Now, unlike the rest of the customization tools on this list, these can be used and enjoyed by anybody, regardless of whether you have an Android phone or not. What's more, while these have been hand-picked to be both beautiful and high resolution (higher than your Quad HD display, even), they will still work on your 1080p or 720p resolution smartphone. They'll even look better than a competing, resolution-fitting wallpaper.
The images in the gallery have been re-sized to save you bandwidth and time. You can
download the full-sized versions from here
.