Android, Windows and Linux coexist peacefully on this 11.6-inch tablet
23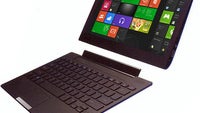 Now that's the kind of device we don't get to hear about every day. At a glance, this contraption may seem like a typical hybrid device – a tablet that transforms into a laptop when paired with a docking station. However, the Ekoore Python S3 is different for three operating systems can coexist independently on it, namely Windows, Ubuntu, and Android.
Specs-wise, the screen on the tablet measures 11.6 inches in diagonal and has a mediocre resolution of 1366 by 768 pixels. What isn't impressive either is the processor inside the device - a dual-core Intel Celeron 847, which should run at about 1.1GHz. The basic model ships with 2GB of RAM and 32GB of storage, but these can be expanded to as much as 8GB of RAM and 128GB of storage. The tablet weighs a whopping 980 grams and is 11 millimeters thick.
While the device's built-in battery will last through 7 hours of use, an extra 5 hours can be squeezed out of the dock's internal battery. The keyboard dock is optional, however, and costs an extra 140 euro. A basic Ekoore Python S3 configuration retails for 599 euro ($780), but if you want to have it loaded with 3G, GPS, extra RAM and storage, get mentally prepared to spend a four-digit amount of cash on it. Still, if you need a triple-booting tablet with a keyboard dock, that's one of the few devices (if not the only) on the market matching that description.