Android Phone Name Generator might be better at Android names than some phone makers
24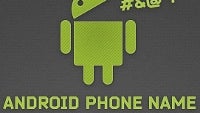 Look, we're not complaining that Android phones don't have
inventive names
. Some of them are pretty short and easy to remember. Others - not so. In either case, with so many of them out there, the Optimal-Galactic-Epic naming trend is starting to really show. And as those romantically named devices get their sequels the situation really just gets out of hand. Just take a look at the Samsung Galaxy Tab 7.0 Plus, Samsung Epic 4G Touch, T-Mobile myTouch 4G...
Now, imagine the future a couple of years ahead. Is it possible that we end up with something like:
Motorola Legend Optimus G1 E Prime,
Sony Ericsson Infuse Black 4G G1 Z,
Sony Ericsson Defy Epic II 4G+ S,
Motorola Rezound Vibrant V 3D G1.
The names are scarily realistic and hilarious. Hit the source link below to get your own selection of absurd Android titles that might one day become your smartphone.
Recommended Stories