Android Pay adds support for tons of new banks; is yours on the list?
17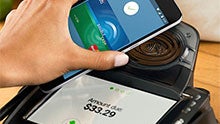 Back in the good old days of Google Wallet, you were free to sign up with whatever card you chose. But when
Google moved its tap-and-pay operation over to Android Pay last year
, a lot of the service's inner working suddenly changed – and that included the new hurdle of
needing to have your card-issuing bank on Google's approved list
before you could get started with mobile payments. To its credit, Google's been working to add more institutions to its list of participating banks, and today we really see support start to explode, as Android Pay accepts cards for another four dozen banks.
The big winner in this round of additions are credit unions, and we've got lots of local and regional credit unions starting to give their members access to Android Pay.
Also among the list of newly supported institutions is Capital One, currently the eighth largest bank in the US.
Of course, while these new additions are fantastic to see, Android Pay is still missing support for some big-name banks, and that's going to continue to haunt Google's service until the company can put the needed deals in place to secure Android Pay access for those customers. We don't want that to detract too much from this week's big progress, but there's still a long way to go.

New banks:
Advia Credit Union
Affinity Plus Federal Credit Union
Alcoa Tenn Federal Credit Union
Altra Federal Credit Union
Amegy Bank
Arsenal FCU
Bank-Fund Staff Federal Credit Union
Bank of England (England, Arkansas)
Benchmark Federal Credit Union
Blackhawk Community Credit Union
California Bank & Trust
Capital One
Catholic and Community CU
Centier Bank
Citizens Bank & Trust Company
Consumers Cooperative FCU
dominion Credit Union
Fidelity Bank
First Atlantic CU
First Community Credit Union
Great Lakes Credit Union
Greater Iowa Credit Union
Hiway Federal Credit Union
Inova Federal Credit Union
Justice Federal Credit Union
KeyBank
Lake Michigan Credit Union
Marine Federal Credit Union
MAX Credit Union
Metro Health Services Federal Credit Union
Mission Federal Credit Union
Nasa Federal Credit Union
National Bank of Arizona
Nevada State Bank
Numark Credit Union
Nusenda Federal Credit Union
Oregon Community Credit Union
Richfield/Bloomington Credit Union (rbcu)
San Mateo Credit Union
Suncoast Federal Credit Union
The Bank of Northwest Kansas
Truwest Credit Union
University Federal Credit Union
UW Credit Union
Vectra Bank Colorado
Vinton County National Bank
Wright Patman Congressional Federal Credit Union
Zions Bank
source:
Google
(
compare to previous list
) via
Droid Life