Android KitKat statue unveiling video may show off the LG Nexus 5
44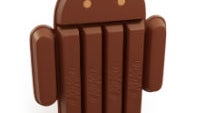 Google kind of shocked us earlier today by announcing that the next major version of Android would be Android 4.4, and not 5.0, and even more of a shock was that the name itself is an
advertisement
, because Android 4.4 will be nicknamed
KitKat
. But, that's not the only surprise that you'll find around this whole thing, because the recently released video showing the new KitKat statue may also show off the Nexus 5.
The video generally doesn't have too much of interest in it. It's always fun to see a new Android statue getting set up on the lawn at Mountain View, and the new KitKat statue does look pretty cool. But, the really interesting bit pops up at around the 38 second mark, where it looks like one of the Google employees that is watching the show has a Nexus 5 in his hands.
The device has the Nexus branding in the landscape orientation, which we thought was a bit odd on the Nexus 7, but now it looks like that will be something to tie together the Nexus 5, 7, and 10. The device that the guy is holding does have an LG logo at the bottom which seems to confirm that
LG will be making
the new Nexus (assuming there is only one). The other interesting note is that the camera lens looks absolutely massive, which reminds us that we have been promised that the Nexus camera would be "
insanely great
".
*Update* Looks like Google has already pulled the video, and the assumption is because this LG Nexus was not supposed to be in there. Of course, this is the Internet, and nothing disappears forever. We've already swapped the link with a mirror of the video.