Android 5.1 Lollipop makes another appearance, this time in the Philippines
5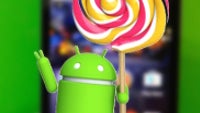 Google is still keeping mum on
Android 5.1 Lollipop
, the seemingly-newest version of its OS, albeit it's already been spotted on some Android One devices that got recently launched in Indonesia.
It seems that the public has had another close encounter with the newest Android build - this time around, this happened in the Philippines, the most recent country that became a member of the Android One initiative.
Two new entry-level Android devices got just released there - the Cherry Mobile One and the MyPhone Uno.
Both phones feature fairly modest specs, 4.5-inch LCDs at 854x480, quad-core Mediatek MT6582 SoCs clocked at 1.3GHz, 1GB of RAM, 4GB of native storage for the MyPhone Uno, 8GB for the Cherry Mobile One, among others, but the most interesting part of the specs sheet is the OS on board of both handsets.
Yes, just as you might've guessed, it's Android 5.1 Lollipop. It is said that Google has subsequently forced both manufacturers to remove the listing of the OS version from the specs sheets, but numerous hands-on reports claim that the Android version was, indeed, the coveted 5.1 Lollipop. As a refresher, it is expected to fix a surplus of shortcomings that vanilla Lollipop brought, namely the absence of a full-fledged silent mode. Well, we can only hope that Google will release the factory images of the build sooner than later.