Android 4.4.3 coming soon to a Nexus 5 or Nexus 7 (2013) near you?
41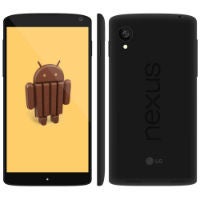 Recent leaks pertaining to Android 4.4.3
have been boiled down to specific versions of the update for the
Nexus 5
handset and the
Nexus 7 (2013)
tablet. The version for the former is codenamed "Hammerhead" and carries a build number of KTU83. The version of Android 4.4.3 for the Nexus 7 (2013) is KTU79. There is a way to break down these build numbers as they are based on a Google-devised code.
The "K" on the build number refers to KitKat. The third letter, which in this case is "U," is the quarter that the software was written. The last two numbers is a date-code. For example, "83" would be the 83rd day of the quarter which was March 24th. That means that the build seen on the Nexus 5 is just shy of a week old. The build for the Nexus 7 (2013) was created on March 21st.
The Android 4.4.3 update is expected to bring a number of fixes for the camera, but most importantly, it will repair a problem that had caused the phone to drop a data connection. Other repairs include one for the Wi-Fi auto-connect, another to end the dreaded random reboot issue that has plagued some users, and one that will eliminate the problem users were having when app shortcuts would mysteriously disappear from the launcher after an update. The bottom line is that the Nexus 5 will be a much improved handset following the update to Android 4.4.3.
With the increasing number of leaks surrounding Android 4.4.3, a release could be imminent. Keep in mind that
the rumored timeline has Google introducing Android 4.5 in July
, so any further tweaking of Android 4.4 can't be put off too long.
Google is not expected to use its Google I/O developer conference
in June as a launching pad for the next major Android build.
source:
IBTimes
,
MYCE
via
RedmondPie