Analysts see Samsung replacing its smartphone chief J.K. Shin this week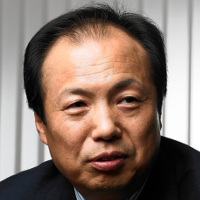 Samsung's mobile phone division has not been raking in the cash lately, and that could be a problem for its leader, J.K. Shin. The executive became the top man on the mobile totem pole in 2011, guiding the company to the number one spot in global smartphone market share. Since Shin took over, the number of smartphones shipped by Sammy has soared from 94.2 million to 2014's 318.2 million. Revenue more than doubled to 111.8 trillion won last year.
The problems start with the bottom line, which peaked in 2013 at $25 trillion won. That was triple the bottom line figure that Samsung had in 2011 when Shin took over. But this year, analysts expect the division' profits to decline 8.2% to the lowest amount since 2011. This will be the third straight year that the division has reported lower profits, leaving the division's top executive vulnerable. Last year,
Shin survived to keep his spot at the top of Samsung's mobile division
, but that doesn't appear to be likely this year.
The decision about whether to fire Shin, or move him somewhere else within the company will be made by Samsung Group Vice Chairman Lee Jae Yong. The heir took over control of Samsung last year
after his father, Lee Kun Hee, suffered a heart attack
. While his father remains alive, the younger Lee cannot be named chairman of the company based on South Korean tradition. But he is expected to eventually get the Chairman title.
Some in the industry expect Samsung to replace Shin with a younger executive, who might be better suited to fix the problem with Samsung's phone division. The thought is that the diversified manufacturer succeeded in revamping its flagship phone, but needs to make some tweaks when it comes to software.
"Shin was able to keep his post last year, but I think it might be different this time around. Last year, it had been only about half a year since Lee Jae Yong took the helm of Samsung Group following his father's collapse, so he chose stability rather than a huge revamp."-Lee Sang Hun, analyst HI Investment & Securities Co.

"Until now, Samsung could grow by developing better hardware, but without software, it can no longer promise a bright future for smartphones. Samsung's mobile business needs a new generational shift as more software-driven innovations, led by younger management, are absolutely required."-Jun Je Wan, founder, AireLive
Samsung will conduct the annual review of its executives later this week. Those who are considered to be failing are usually shifted to another division inside the company.
source:
Bloomberg