J.K. Shin to remain head of Samsung Mobile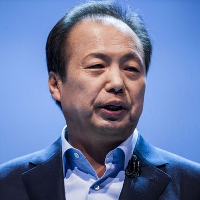 You might recall that last week, there were some rumblings going on at Samsung,
in reference to a change at the top of the company's struggling mobile business
. Expected to be removed from his current job as head of Samsung Mobile, was J.K. Shin. He also would be leaving his spot as co-CEO of Samsung. The rumor had fellow co-CEO B.K. Yoon replacing Shin. Since Yoon runs the appliances and television businesses at Samsung, it was hoped that he could bring new marketing ideas to the Mobile division.
But it looks like Shin will continue to have the key to the men's room at Samsung Mobile HQ, after all. A report published on Monday says that despite a 74% decline in telecom profits in October, the 58-year old executive will keep his post at Mobile, and remain one of the three co-CEOs of the Tech Titan. Besides the decline in profits, the company's global smartphone market share has declined to 24.7% from 35% in Q3, according to Strategy Analytics.
Shin has spent 30-years at Samsung, and has run the mobile business since 2011. Under his leadership, Samsung created the "Galaxy" line, and the company took over the top spot in global smartphone market share. But upstart competitors like Xiaomi are using pricing as a tool, to snatch business away from Samsung in certain markets.
source:
Bloomberg