Analysts say BlackBerry Z10 off to better start than Nokia Lumia 920
67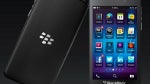 "Our recent store checks suggest that initial sales of the BlackBerry Z10 are off to a solid, if not healthy start in the U.K.. We believe this is a function of strong sell-through versus limited sell-in. … We believe BlackBerry's Z10 is off to a better start than the Lumia 920. The solid initial demand is a positive step in our view, despite the number of challenges that remain."-Jeff Kvaal, Barclay's analyst
The
Nokia Lumia 920
got off to a strong start. You might remember that in France,
pre-orders for the Windows Phone 8 device
topped those for the
Apple iPhone 5
. Then came news that in the U.K., retailer Clove three times in a row,
sold out of its inventory of the phone before they could get any units in the store
. Before that occured, long lines were seen snaking around a Nokia Store in Shanghai not once, but twice. The first time they were put on sale in the store, the
Nokia Lumia 920 sold out in two hours. The second time, the yellow version of the phone was all gone in twenty minutes
.
What brings up these stories of the Nokia Lumia 920 are reports from a couple of analysts, Bernstein's Pierre Ferragu and Barclays' Jeff Kvaal, that suggests that the
BlackBerry Z10
is off to a strong start with Kvaal saying that the Z10 is off to an even
faster start than the Nokia Lumia 920
. And that is obviously saying a lot, based on how strong sales of Nokia's flagship model had been in its early days. We mentioned Ferragu's comments yesterday, when his decision to upgrade BlackBerry stock
helped lead to a 15% rally in the shares
. Kvaal's people in the U.K. basically told him that sales were solid with some stores sold out and others with limited inventory, basically repeating what other analysts had said on Monday.
To say that the BlackBerry Z10 is off to a faster start than the Nokia Lumia 920 is obviously a big deal for BlackBerry. Still, we should have a better idea of how this opening week turned out for the company when official numbers are released. In the meantime, you can imagine the backslapping and high fives taking place in Waterloo, because for the first time in years, BlackBerry is
relevant
again.
source:
AllThingsD
Recommended Stories