Upcoming Tizen OS browser takes the crown in HTML5 tests
5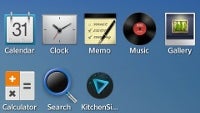 We know little about the upcoming Tizen OS except for the fact that it stems from MeeGo and is backed up by Samsung, but here's a teaser - the browser in Tizen topped
HTML5 speed test results
. Running on an unnamed device, the Tizen browser came first among other browsers in beta or development, even outpacing the Chrome Beta for Android.
"Tizen 1"
scored 387 points with 15 bonus points, a result that places it securely at the first place for rendering HTML5 content. The closest runner-up is the browser on RIM's upcoming BlackBerry 10 platform with 361 and 10 bonus points, and the third in line is Chrome Beta scoring 343 point, also with a bonus of 10.
Now, that won't tell you much unless you look at the figures in comparison. Current browsers like the one in iOS 5 and Android score much less than that. Apple's mobile Safari scores 305 with 9 bonus points, while Android's stock browser got a main score of 256 and 10 extra points.
We don't know what secret sauce Samsung spiced up its Tizen browser with, but it seems to work well, so this only sparks our interest. Rumors suggest that the browser is based on the WebKit rendering engine like mobile Safari and the one in Android. With the web transitioning to HTML5, these results will gain even more importance in the future.