Supposed Samsung Galaxy S IV appears on video and it's a China-bound dual-SIM version
99+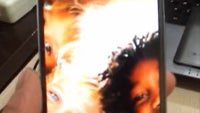 Another day, another
Samsung Galaxy S 4 leak
. This time, though, the supposed Galaxy S 4 makes an appearance on video and it is the same dual-SIM version we saw appear prematurely in China yesterday.
This is the Galaxy S 4 under the
GT-I9502 model name
, and it seems to be a fully functional unit, running on Android 4.2.1 Jelly Bean with a new version of TouchWiz on top of it.
Update:
The video also reveals that the Galaxy S IV - if that is indeed it -
will feature a 2,600mAh battery
. That's great news and should allow the device to easily last a whole day.
Looking at this video, the device looks very similar to the current Galaxy S III in terms of design. The rounded edges, the pebble form, everything seems to be identical, save for what looks like a more narrow bezel for an almost edge-to-edge screen. By all visible clues, the new Samsung flagship is also made out of plastic.
Notably, this Galaxy S 4 candidate does look a bit thicker than you'd expect. While we hope that is justified by a larger battery, we think it might have something to do with the fact that it is a dual-SIM version of the device. The single SIM version could be thinner, but again this is just a lucky guess.
The camera interface has evolved with a separate on-screen buttons for video and still capture, and we get to see how burst shot works in the demonstration right below.
Sadly, mister Blurrycam ruins the rest of the video. Even though the battery pack is shown, it's all out of focus making it hard to read the numbers for its capacity. Take out your magnifying glass, Sherlock Holmes' spirit and feel free to investigate it right below.
source:
52 Samsung