Analyst says all four major carriers would win with T-Mobile-Sprint merger
27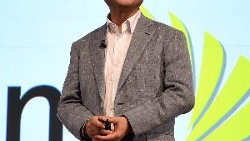 Man, if we were given a nickel for each time that Sprint was rumored to be buying T-Mobile, we'd be sitting on Shark Tank next to Mark Cuban. The latest edition of this rumor has the backing of Barclays analyst Amir Rozwadowski. In a report to clients, Rozwadowski said that Sprint's underwhelming earnings report last week has management looking at a way to consolidate the industry. According to the analyst, Sprint management believes that combining T-Mobile and Sprint might be the best way to take on Verizon and AT&T.
Rozwadowski brings up an interesting point. Across the border in Canada, there are three major wireless operators and all three have an average revenue per user higher than the big four in the states. Their margins top those belonging to all of the major U.S. carriers, except for Verizon. A merger would allow the U.S. carriers to regain control of pricing power, according to Wall Street. Is three (as in three major carriers) the magic number?
A Sprint-T-Mobile deal would probably raise the valuations of Verizon and AT&T in the U.S. But such a deal will have its share of hiccups. How would such a deal be structured? SoftBank owns over 80% of Sprint, and has a high powered CEO in Masayoshi Son. T-Mobile has a pretty powerful parent of its own in Deutsche Telekom, which owns 65% of the U.S. company.
"If the U.S. market was to evolve in a similar manner post consolidation, we could see increased pricing power accrue to the carriers and therefore a re-rating of the sector."-Amir Rozwadowski, analyst, Barclays
This could be one of those situations where subtraction actually results in addition. But will something real take place this time, or is this all talk as usual? What has prevented any deal from getting past the talking stage is the concern that U.S. regulators will shut down any transaction. However, there is a new sheriff in town and he is not quite so fond of regulations. This might be the best time to attempt a Sprint-T-Mobile merger as far as getting past the FCC and DOJ is concerned. And none other than T-Mobile CEO John Legere said last month
that a Sprint-T-Mobile deal was possible
.
source:
Barron's